Ex-Michigan football player Corwin Brown gets suspended jail sentence in hostage case
Posted on Tue, Aug 21, 2012 : 1:25 p.m.
Former Michigan football player Corwin Brown received a four-year suspended jail sentence Tuesday for his role in a hostage and police standoff incident last year, The Associated Press is reporting.
Brown pleaded guilty in June to charges of striking his wife and holding her hostage, but he also entered a mentally ill plea to the confinement and domestic battery charges.
According to The Associated Press, Brown's suspended jail sentence came after his wife claimed that taking him away from the current counseling he's receiving would be damaging to his mental state.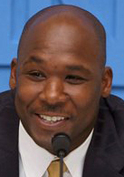 During the course of the trial,
Brown's family insisted that the incident -- which took place in South Bend, Ind. -- was a result of brain trauma he suffered during his lengthy football career.
Brown played defensive back at Michigan from 1989-92 before embarking on an eight-year playing career in the NFL. He played with the New England Patriots, the New York Jets and the Detroit Lions.
A co-captain and All-Big Ten selection at Michigan in 1992, Brown was a two-year starter with the Wolverines, totaling 150 career tackles and three interceptions.
He helped Michigan to a 38-31 Rose Bowl victory over Washington at the end of the 1992 campaign.
Brown served as a defensive coordinator for Notre Dame from 2007-09, and most recently was a member of the New England Patriots' coaching staff in 2010.