Posted on
Mon, May 16, 2011 : 3:09 p.m.
Ex-Michigan football player Amani Toomer returned to Ann Arbor for the first time in 15 years last weekend
By Michael Rothstein
Football kept Amani Toomer away from Ann Arbor for 15 years since he graduated from Michigan in 1996. He always had something going on. During football season, he was with the New York Giants. In the off-season, he had commitments and family obligations.
Then this weekend, finally retired after 190 games as a wide receiver in the NFL and now making a move into broadcasting, he returned to Michigan.
He didn't know what to expect when he returned to Ann Arbor for the three-day Griese/Hutchinson/Woodson Champions for Children's Hearts charity weekend. He knew he'd be accepted by former teammates, but still, he wondered what had changed? Would he still recognize the Michigan campus?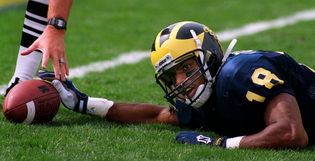 File photo
"It was good to be back, good to see some players and people, and I saw coach (Gary) Moeller, which was special," Toomer said. "I just really felt like a part of the whole Michigan family, more so than I did in the past couple of years.
"I feel more connected than I did before, so that's always a good step forward."
Some of the places Toomer went were recognizable — a stop at campus bar Good Time Charley's, for instance. Others weren't, as new buildings and renovations have popped up since the last time he was here.
Things had changed for Toomer, too. He left Ann Arbor as a second-round NFL Draft pick expected to be an impact player in New York. He returned retired from football after a 13-year NFL career, a Super Bowl champion and someone who is OK commenting on the game instead of playing it.
Except for a couple of months in Kansas City, Toomer spent his entire football career with two teams — Michigan and the Giants.
"I was relieved, actually. I went to Kansas City, got hurt in camp, and I was relieved because I knew, I could feel my skills and my body not being able to do what my mind was telling it to. And it was a stressful situation I went through," Toomer said. "When your mind thinks you can go and your body just doesn't do what you want it to do, so now that it's done I'm very pleased with the body of work I put together."
Toomer retired with 9,497 receiving yards and 54 touchdowns in 190 games. His best season was with the Giants in 2002, when he averaged 16.4 yards per catch while piling up 1,343 receiving yards with eight touchdowns.
Now he's taking that experience into the broadcast booth, something he didn't expect when he was playing.
He did work with the Big Ten Network last season and also with my9 in New York on a postgame show after Giants football games. It is different than what he thought he might get into: Real estate.
Most of that work comes on the investment side working with companies searching for money, but that doesn't invigorate him like he thought it would.
Broadcasting, he said, is fun and he has a different understanding of the media now that he's analyzing games instead of playing in them.
"When I was playing, it was like 'Oh, man, they don't know what they are talking about, these people in the media,'" Toomer said. "But they really have a perspective that we don't have as players, and now I'm getting my eyes open to that new perspective of the game."
Toomer likes it. He said he is currently figuring out on-air possibilities for next season, something he hopes to wrap up in the next month.
Michael Rothstein covers University of Michigan basketball for AnnArbor.com. He can be reached at (734) 623-2558, by email at michaelrothstein@annarbor.com or follow along on Twitter @mikerothstein