Posted on
Sat, Feb 4, 2012 : 10:05 a.m.
Ex-Michigan receiver Mario Manningham develops into dependable member of Giants' passing game
By AnnArbor.com Freelance Journalist
Associated Press
By Brian Peloza
For AnnArbor.com
INDIANAPOLIS — Mario Manningham is starting to win critics over.
The former University of Michigan standout wide receiver has scored a touchdown in all three of New York's postseason games. This despite having just 39 receptions for 523 yards and four touchdowns in the regular season.
Manningham's postseason production is a big reason the Giants will meet New England in Super Bowl XLVI on Sunday in Indianapolis (6:30 p.m., NBC).
"I think he has come a long way," said NFL analyst and former wide receiver Cris Collinsworth. "I've been critical of him in the past where I thought he ran routes to close to the sideline, but I've watched how they've developed him. He is so much more sophisticated as a receiver now than he was two years ago. I take my hat off to him."
Collinsworth praised Manningham's key third-down catch against San Francisco in the NFC Championship game.
"The thing I like about Mario is that he answered the bell in a huge moment," Collinsworth said. "That says a lot about the character of that young man to make that play in that situation, and a tough catch over the middle, too."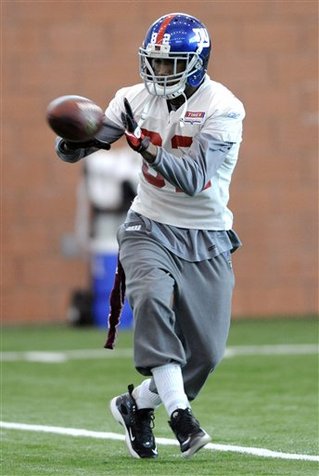 Associated Press
Manningham was coming off his best season in 2010, compiling 944 receiving yards and nine touchdowns. He was reaching his potential after leaving Michigan after his junior season in 2007 when he had 72 receptions for 1,174 yards and 12 touchdowns for the Wolverines.
He missed four games this season, which is part of the reason for his decreased production. But he's not complaining with a chance to play in the NFL's biggest game.
"It's been a nice journey," Manningham said. "I'm at my first Super Bowl, obviously. Just trying to go make plays, enjoying everything, knowing it's a job, knowing it's a business, trying to make fun out of it for as long as I can."
The emergence of Victor Cruz as a slot receiver, coupled with the continual improvement of Hakeem Nicks, has led to a more balanced passing game.
Cruz has 1,536 receiving yards this season, while Nicks has 1,192 yards. Manningham is fine with those two receivers getting much of the attention — from media and opponents.
"I'm comfortable in my role," Manningham said. "I can't complain. I like going out there and going under the radar. It's kind of like I can go out there and make a play at any time because they're paying attention to Hakeem (Nicks) and Victor (Cruz). I like being under the radar."
Cruz said he has much respect for Manningham's ability and attitude.
"That guy, he's a starter if he goes anywhere else in this league," Cruz said. "For him to humble himself and allow me to come up, and to not really have any problem says a lot. He's battled his way through some things injury wise as well."
Manningham said his three postseason touchdowns are simply a matter of making a play when called upon. He's the first player in New York history to score a touchdown in three consecutive postseason games.
"Run your route to get open," Manningham said. "For the receiving corps, that's our mentality. After you catch the ball, go make the play. I just play my role. That's all. I play my role and show up when I need to show up. That's all."
Win or lose, Manningham will have plenty to think about after the game, such as if it was his last with New York. He's in the final year of his contract.
"I'll worry about that on Monday," Manningham said. "I want to enjoy our team and enjoy this. If we go out and win, I want to enjoy this with our team."
Manningham has also gained attention from comments showing his desire to be lined up against New England's Julian Edelman, a converted offensive player. Manningham stood by his comments, by noting Edelman wasn't drafted as a defensive back.
"I am not really worried about what Mario Manningham is saying right now," Edelman responded. "I am more focused on doing my job, and that is preparing right now. We will see if that opportunity comes ahead of us in the game."