Posted on
Mon, Jan 28, 2013 : 5:22 p.m.
Ex-Michigan running back Leroy Hoard struggling with mental, physical toll of 10-year NFL career
By Pete Cunningham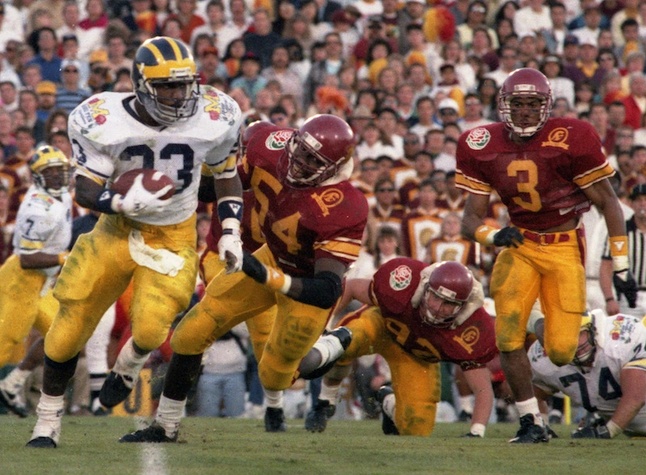 Ann Arbor News file photo
Ex-Michigan fullback
Leroy Hoard
was a bruising runner when he played for the Wolverines from 1987-89 and during his 10-year NFL career. But after all those years of abusing would-be tacklers, now it's Hoard who is feeing the pain from all of those hits.
Hoard recently told ESPN about the physical and mental toll the game has played on him on the Sunday morning show "Outside the Lines." One of the ailments Hoard suffers is memory loss, so he keeps a notepad handy to write down things he fears he may forget.
Hoard battles emotional demons as well, and to combat his struggles, writes the names of former NFL players Junior Seau, Andre Waters and Dave Duerson on the inside of every one of his notebooks. All three former players suffered brain trauma during their NFL careers from repeated blows to the head and all three committed suicide by shooting themselves.
"I don't know why I wasn't one of them. I worry all the time, like, 'how close was I to that?'" Hoard told Outside the Lines.
Check out Hoard's emotional story:
Pete Cunningham covers sports for AnnArbor.com. He can be reached at petercunningham@annarbor.com. Follow him on Twitter @petcunningham.