Posted on
Sat, Sep 15, 2012 : 9:50 p.m.
Ex-Michigan running back Michael Cox enjoys one last game at the Big House
By Pete Cunningham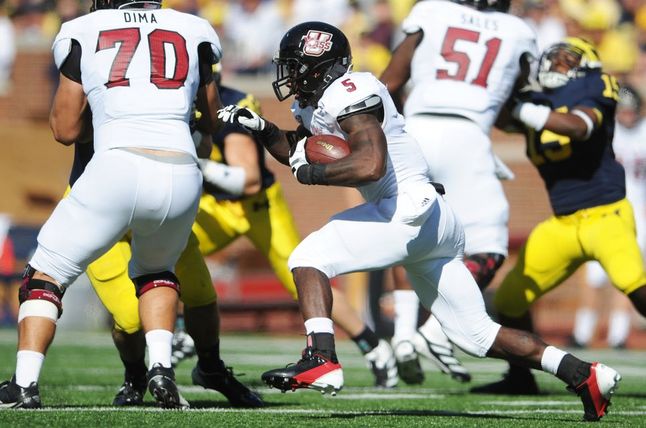 Melanie Maxwell | AnnArbor.com
Preparing for a game at Michigan Stadium was nothing new for
Michael Cox
.
In his four years at Michigan, he'd been on the sidelines dozens of times as the student section turned from grey to maize, and band played the fight song for the tens of thousands filing into their seats.
But Saturday was different. Saturday was a little weird.
Cox changed in the visitors locker room. Put on the uniform of the visiting team. And when game time rolled around, went to the visitors sideline as the running back for the visitors, the University of Massachusetts.
"It was, like, weird at first. Especially going into the other team's locker room, bringing back a lot of memories and going to the opposite sidelines," said Cox, "but it was fun."
Cox graduated from Michigan in the spring and using the NCAA's one-time transfer rule for graduate students, is playing out his final year of eligibility as a graduate student at UMass. In Cox's career at Michigan, he'd obviously never been on the visiting sidelines, but he'd also never been the focal point of team's offensive game plan.
That's exactly what he was on Saturday, rushing for 76 yards on a career-high 18 carries as Michigan beat UMass 63-13.
Cox only had 19 carries in his entire career at Michigan and only once was more productive than he was on Saturday, and that was in a 63-6 blowout win over FCS opponent Delaware State.
Cox loves Michigan, and doesn't like losing, but he does like playing.
That's what the move to UMass offered. Sure, he never dreamt of hearing "The Victors" from the visitors locker room, but he did dream of playing. Not standing on the sidelines.
And on Saturday, Cox got to play, and played pretty well.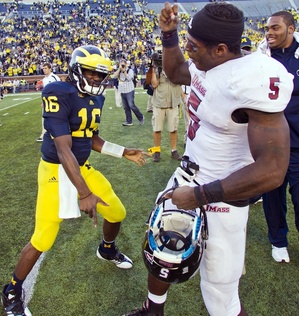 Associated Press
"It definitely felt good. And I wanted to win and everything, but it definitely felt good coming back (and playing well)," Cox said. "I'm real happy I'm here (at Massachusetts) and getting a chance to play."
Massachusetts coach Charley Molnar wanted to use Cox more, but the rest of the Minutemen offense didn't do much to help that.
"We had so many penalties offensively and, gosh, we were just pinned back and we just had to throw the ball a little bit to try to get out of the holes we dug ourselves into," Molnar said. "I really think we could have established (Cox) he was on track to have a good game."
After the game Cox sought out his former teammates. He wasn't able to celebrate with them like he used to, but he did get to chat with Roy Roundtree, Denard Robinson and others and share a laugh or two.
Even from the visitors sidelines, playing for the visiting team, Michael Cox still considers Michigan Stadium home to an extent, and those guys will always be his brothers.
""It was just nice, to see those guys, my really good friends," Cox said. "I spent my whole, or most of, my college career with them. So yeah, it's cool coming back and seeing them."
Pete Cunningham coves sports for AnnArbor.com.