Posted on
Tue, Jan 31, 2012 : 12:03 p.m.
Experts project who will become top 5 players in Michigan football team's recruiting class
By Kyle Meinke
Five-star prospects grab the headlines in recruiting season, but, sometimes, they don't pan out.
Other times, they're just outplayed by a late bloomer.
It is difficult to project which players will pan out and which won't, but that won't stop us from trying. AnnArbor.com enlisted two of the better analysts in the state to project which of Michigan's 24 verbal commits eventually will become the biggest stars.
Their picks:
Allen Trieu, Scout
Joe Bolden, linebacker, Ohio: He has speed, toughness and a nose for the football, all things that could make him one of the team's top defenders.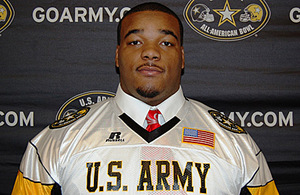 Courtesy U.S. Army All-American Bowl
Ondre Pipkins, defensive tackle, Missouri:
He's likely to play early and often, and there just aren't many 320-pound guys with his kind of ability to disrupt and change the game.
Kyle Kalis, offensive guard/tackle, Ohio: He's college ready and has done well against some of the best in the country. A future starter at guard or right tackle.
Ben Braden, offensive tackle, Michigan: 6-foot-6, 319 pounds speaks for itself, but he moves like a smaller guy. He's naturally strong and simply has a ton of upside. He's only played the position for two years.
James Ross, linebacker, Michigan: The guy makes plays. For his entire high school career, he found his way to the ball carrier, and there's no reason to think that won't continue in college.
Tim Sullivan, Rivals
Ondre Pipkins, defensive tackle, Missouri: Pipkins is a big body at 6-3, 320 pounds, but he still has the quickness and motor to tear into opposing backfields. He'll have to work to stay in shape at the next level, but can be a dominant defensive tackle down the road.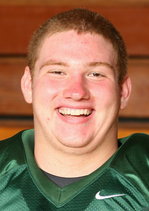 Jehu Chesson, receiver, Missouri:
Chesson isn't a highly rated guy, but he has the potential to excel down the road with size (6-3, 185) and speed (37.44 seconds in the 300-meter hurdles as a high school junior). All Chesson needs to do is learn the nuances of wide receiver to cash in on those skills.
Chris Wormley, defensive end/tackle, Ohio: Wormley is enormous, standing nearly 6-7 and 270 pounds as a high school senior. He can dominate lesser competition based on just his physical skills, and once he hones his technique, could do the same to college offensive linemen.
Joe Bolden, linebacker, Ohio: Bolden is one of the most college-ready players in the class. He's 6-3, 225 pounds, and his early enrollment for the winter semester will allow him to get on the field early in his career.
Kyle Kalis, offensive tackle/guard, Ohio: The son of a former NFL lineman, it's no surprise to see that Kalis has excellent technique as a high school player. His quick feet and overall strength give him the potential to play any position along the offensive line.
Kyle Meinke covers Michigan football for AnnArbor.com. He can be reached at 734-623-2588, by email at kylemeinke@annarbor.com and followed on Twitter @kmeinke.