Posted on
Sat, Nov 26, 2011 : 6:16 p.m.
Fans celebrate as Michigan football team holds off Ohio State, 40-34
By Nick Baumgardner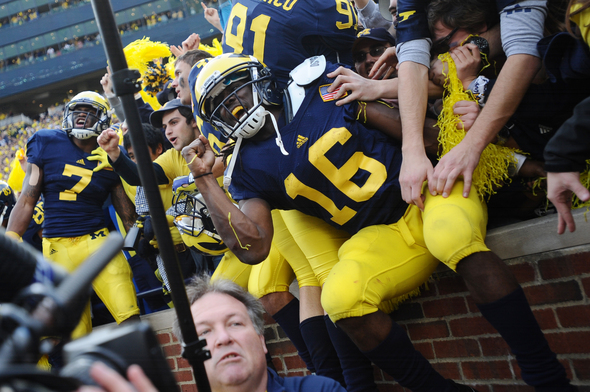 Melanie Maxwell | AnnArbor.com
Updated 6:16 p.m.
For 2,926 days, the Michigan football program sat in agony.
But on Saturday, with 114,132 of their closest friends looking on, the Wolverines partied.
Finally.
Junior quarterback Denard Robinson accounted for 337 yards and five touchdowns as No. 17 Michigan snapped seven-game losing streak to rival Ohio State with a 40-34 victory at Michigan Stadium, sending fans streaming on the field, singing and dancing.
"We said, 'Beat Ohio' after almost every team meeting. We said, 'Beat Ohio' after almost every team breakdown," Michigan senior center David Molk said following the win. "This is what we wanted. We wanted to prove it.
"And we did it."
Michigan coach Brady Hoke became the program's first coach to win 10 games in his debut season since Fielding H. Yost in 1901.
Robinson finished 14-for-17 passing for 167 yards and three touchdowns. He ran for 170 yards on 26 carries for two more scores, his third career five-score game.
Sophomore running back Fitzgerald Toussaint added 120 yards on 20 carries for the Wolverines (10-2, 6-2 Big Ten). Toussaint and Robinson both passed the 1,000-yard mark during the game, giving Michigan a pair of 1,000-yard rushers for the first time since 1975.
The Wolverines have 10 victories for the first time since 2006, went 8-0 at home for the first time in program history and finally claimed back bragging rights in one of the country's top rivalries.
"I love my team," Hoke said. "I love how they represent Michigan.
"I've got the best job in the world, I do. At 2:30 every day I (see) 115 guys and I get a chance to make a difference in their lives. What could be funner?"
The feeling for Ohio State was markedly different.
"We've never lost to Michigan," OSU senior receiver DeVier Posey said. "It's just an eerie feeling, you know. It's gives you a weird feeling in your stomach."
After both teams put up a combined 47 points in the first half, Michigan reclaimed a narrow lead midway through the third quarter when Robinson found Martavious Odoms over the middle for a 20-yard touchdown, making it 30-24.
The Wolverines appeared to be in control late in the frame, but a crucial dropped snap by punter Will Hagerup swung momentum, giving the Buckeyes the ball on the Michigan 32.
Ohio State would drive inside the 5-yard line, but the Michigan defense would hold, forcing a 21-yard field goal by Drew Basil to make it a 30-27 game with 12:50 to go.
The Wolverines seized control on the ensuing drive, as Robinson racked up his fifth touchdown of the game with a 4-yard toss to Kevin Koger to make it a 10-point game. But 83 seconds later, Ohio State responded, capping a lightning-quick 80-yard march with a 4-yard run from Dan Herron to make it 37-34 with 7:09 left.
Michigan appeared to put the game away five minutes later as Toussaint burst over the goal line for a 5-yard touchdown. The play was reviewed and Toussaint was ruled down at the 1-yard line.
Robinson scored on the following play, but again the touchdown was called back, this time for holding. Ohio State also got the benefit of a personal foul penalty on Michigan's Steve Watson, forcing the Wolverines to settle for a 43-yard field goal from Brendan Gibbons to make it 40-34 with 1:59 left.
"We feel like we let our offense down," Michigan senior defensive lineman Ryan Van Bergen said. "Defensively, we've been excellent all year, and we really wanted to be able to let the offense hand the ball off to us, so to speak, and let us take this game in for them. We let them down once.
"And we said when we came to the bench, 'It's not happening again. No way.' "
The Buckeyes had one last gasp, and Miller just overthrew a wide open Posey down the Michigan sideline, but Courtney Avery intercepted a bobbled throw with 39 seconds to play — capping the win and starting a massive Wolverine celebration.
After soaking Hoke with a Gatorade bath, the Wolverines sprinted to the student section to sing "The Victors." Following that, the students mobbed midfield to celebrate the milestone victory.
"To be honest with you, I was numb," Michigan senior receiver Junior Hemingway said after the game. "I didn't know what to do."
In a wild first half that featured four lead changes, the Buckeyes struck first when Miller found Corey Brown for a 54-yard pass on the game's first possession, but Michigan would quickly answer.
Robinson sprinted 41 yards to the end zone two drives later to tie the game, on the ensuing possession, Ohio State was flagged for holding in the end zone, resulting in a safety and putting the Wolverines up 9-7. The lead would swell to 16-7 after Robinson found Hemingway from 26 yards out with 3:02 to go in the first quarter.
Michigan's 16 points in the opening frame were the most the team had scored against Ohio State since 2006.
The Buckeyes bounced back, though, getting a 45-yard field goal from Basil and a 19-yard touchdown run from Miller, aided by a Robinson fumble, to go back in front 17-16 midway through the second.
Robinson gave Michigan the lead back briefly on its next drive with a 6-yard scoring run, but Ohio State would take the edge into the half after Miller hit Posey on a 43-yard scoring pass with 1:21 to play in the second quarter.
Miller finished 14-for-25 for 235 yards and two scores. He ran 16 times for 100 yards and a score. As a team, Michigan out-gained Ohio State 444-372.
The Wolverines will now play the waiting game to see where they land in the postseason bowl picture. Some analysts have slotted Michigan as a Bowl Championship Series at-large candidate.
Bowl possibilities weren't on the Wolverines' minds following the game, though.
They'd just beaten Ohio State.
Did anything else really matter?
"To gone through what we've gone through," said Molk, a fifth-year senior. "This is my third coach, my third offensive coordinator, my third O-line coach, my third strength coach. It was a rollercoaster that seemed like it would never get good. But we kept fighting.
"It's just like the old saying goes, 'Those who stay will be champions.' We all stayed, we all stayed together."
Nick Baumgardner covers Michigan sports for AnnArbor.com. He can be reached at 734-623-2514, by email at nickbaumgardner@annarbor.com and followed on Twitter @nickbaumgardner.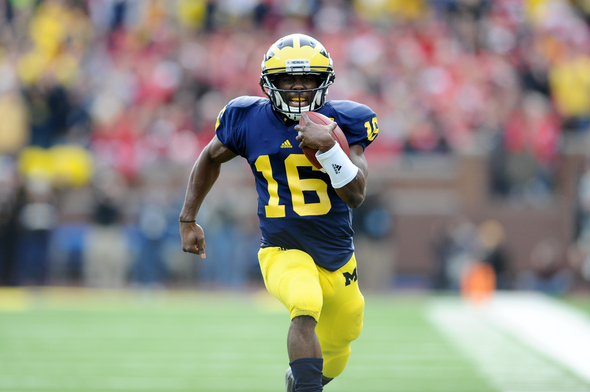 Melanie Maxwell | AnnArbor.com