Posted on
Sat, Nov 20, 2010 : 7:01 p.m.
Despite loss, many Michigan football fans back coach Rich Rodriguez
By Lisa Carolin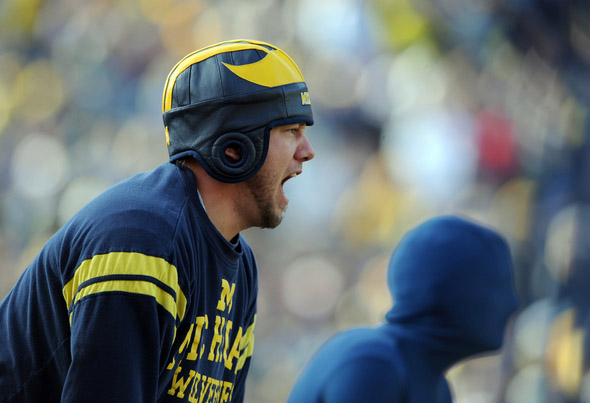 Lon Horwedel | AnnArbor.com
David Karibo drove from Metamora, Michigan, to watch the Michigan football team play in its final home game Saturday. The highlight, he said, was the abundant sunshine — not the play on the field.
His wife, Jan Karibo, summed it up in just four words: "Michigan had no defense."
The decisive 48-28 loss to Wisconsin brought a new chorus of calls among some fans for coach Rich Rodriguez to be fired. But others again stressed the need to be patient as Michigan rebuilds.
Cindy Tech, mother of Michigan senior defensive back Karl Tech, said Rodriguez came in to a difficult situation following a longtime coach with an established program.
"I think he's doing the best that he can," Tech said. "I think he's putting the right people in there - the players are behind him, I think they like him, I just feel bad for the man because I think he's been crucified by the media from day one."
Michigan fan David Silk was disappointed in his team Saturday and didn't hide his feelings for Rodriguez.
"Michigan has the worst defense I've ever seen, and they are poorly coached," Silk said. "I think Rodriguez will stay another year, but he's brought shame in the performances and actions of his team."
Patience in the coach was a mantra repeated by many fans.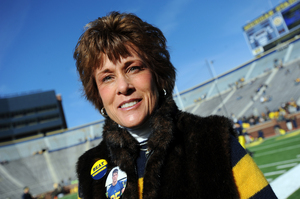 Lon Horwedel | AnnArbor.com
"Michigan's kicking game needs a lot of work," said Chuck Petitpas, who came to the game from Livonia with his wife, Stacey Petitpas. "I think people should be patient with coach Rodriguez and give his players time to mature."
Tony Ferrara, father of Michigan senior offensive lineman John Ferrara, said change can be a difficult process.
"You're seeing a change in this team ... people don't like change, change is tough for everybody. Show me anybody who likes going through change - this country is going through change, it's tough to endure, but unlike that team down in South Bend, who quit on Charlie Weiss, we have to stay patient," he said. "People got to realize, this isn't the pros, you can't go to free agency and you can't pick up players. We got to recruit, and we got to recruit the right players, and I think you've already seen what (Rodriguez) can do on offense, now we just have to give him a chance to get the players on defense."
Michigan fan Steve Castillo of Coolwater, Ohio, left Saturday's game frustrated, but remains solidly in Rodriguez's corner.
"I'm all in for Michigan — the coach should stay, but the defensive coordinator has got to go," he said.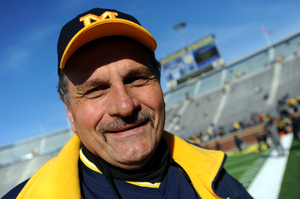 Lon Horwedel | AnnArbor.com
Many fans agreed the Wolverines looked better in the second half of Saturday's game.
"The first half was terrible," said Michigan fan Eric Heie. "They found their offense in the third quarter."
Don Duerr expects to see Rodriguez back next year.
"I think he'll get a fourth year on his contract, and the team will be better," he said.
But before the Wolverines look to next year, they'll have a final game in Columbus next weekend and a bowl game to look forward to.
Don and Kathy Duerr drove to Ann Arbor from Canton, Ohio, Saturday because their son attends U-M. They predict a Buckeyes victory Nov. 27.
"OSU's defense is better," Don Duerr said.
Chuck and Stacey Petitpas plan to watch the Ohio State game at home wearing their maize and blue.
"If Michigan would beat Ohio State, it would be Rodriguez's biggest upset," Stacey Petitpas said.
AnnArbor.com's Lon Horwedel contributed to this story.