Posted on
Tue, Nov 9, 2010 : 6:21 p.m.
Feud thaws between Rich Rodriguez and Danny Hope, Robinsons will start at QB and more Michigan vs. Purdue
By Pete Bigelow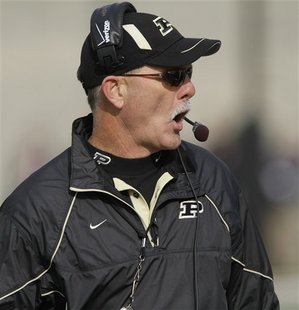 Associated Press
Rich Rodriguez and Danny Hope might not like each other, but the two football coaches have one thing in common.
They'd prefer to forget about their heated exchange following last year's Michigan-Purdue game.
"I'm not going to reflect back on anything," Hope snapped Tuesday. "We're going to move on and play. Several times, you meet through the course of the year and I've had a chance to visit with him on several occasions, and all's well."
Rodriguez briefly addressed the exchange Monday, in advance of Saturday's rematch (12:01 p.m., Big Ten Network).
"We've talked a little bit, but we haven't talked about that or done anything," he said. "It's in the past."
As the two coaches walked toward midfield last November following Purdue's 38-36 victory at Michigan Stadium, Hope became agitated because he believed Rodriguez had contributed to the Big Ten's one-game suspension of lineman Zach Reckman.
Hope went as far as introducing Rodriguez to Reckman and sarcastically said, "Thanks, Coach, we appreciate what you did."
The Boilermakers believed Rodriguez's vigilance for post-play extracurricular shenanigans, which came on the heels of Jonas Mouton's one-game suspension for punching Notre Dame center Eric Olsen, played a part in Reckman's suspension.
Rodriguez said he played no part in Reckman's suspension, and didn't appreciate Hope's post-game ambush.
"I usually go over and shake hands and tell you good luck in the next game," Rodriguez said after the game. "To come over and say something about that? Whatever."
Both Robinsons should start Rodriguez said Tuesday that Michigan quarterback Denard Robinson had no difficulties completing Monday's practice and that the sophomore was on track to start Saturday against Purdue.
Likewise for Purdue quarterback Sean Robinson, a true freshman expected to make his second career start. He staked the Boilermakers to a 10-6 halftime lead versus Wisconsin last week, only to throw three second-half interceptions in a 34-13 loss.
Purdue could return Justin Siller to quarterback for the first time in years, but he's nursing a foot injury. Hope cast doubt on the feasibility of his readiness.
Siller, a receiver, played quarterback against the Wolverines in 2008, and shredded the Michigan defense. He carried 15 times for 71 yards and a touchdown while completing 21 of 34 passes for 266 yards and three touchdowns.
Purdue won that game, 48-42, officially ending Michigan's 33-year streak of consecutive postgame appearances.
By the numbers Michigan leads the Big Ten in total offense with an average of 535.9 yards per game, more than 80 yards ahead of second-place Ohio State.
Still, after watching film of Michigan's 67-65 triple-overtime victory against Illinois, Rodriguez sees a lot of room for growth.
"You see so many potential big plays that are still out there," he said Tuesday.
Quotable "They shouldn't. To me, it's for the players that earned it." - Rodriguez, on whether early enrollees should accompany the team to a bowl game. The NCAA outlawed the practice a few years ago, a position Rodriguez endorses.
Pete Bigelow covers Michigan football for AnnArbor.com. He can be reached at (734) 623-2556, via email at petebigelow@annarbor.com and followed on Twitter @PeterCBigelow.