Posted on
Tue, Sep 27, 2011 : 10:49 p.m.
Fiery Michigan offensive tackle Taylor Lewan harnessing emotions, reining in penalties
By Kyle Meinke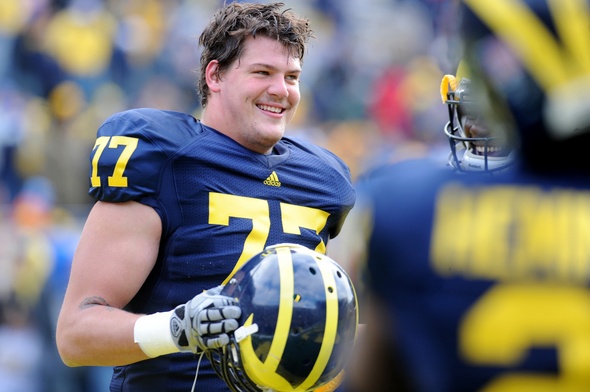 AnnArbor.com file photo
When
Brady Hoke
took over as head coach of the
Michigan football
team in January, he met with each of his new players.
His meeting with Taylor Lewan went longer than most. The topic?
Cut down on the penalties.
"I knew it was coming," said Lewan, a 6-foot-8, 302-pound left tackle from Scottsdale, Ariz., with as much a reputation for punishing defensive linemen as punishing his own team. "You can't watch last year's film without noticing there were some penalties, and I'll take part of that blame. I'll put that on me a little bit."
Lewan started seven regular-season games last year as a redshirt freshman and was imposing from the start. But he also had to be lifted from multiple games as his temper got the better of him.
He finished with seven penalties and two personal fouls in that span. Michigan (4-0) failed to pick up another first down after six of those penalties. The seventh came on an extra-point attempt.
Against Iowa, he was whistled for two false starts and a personal foul -- all in the first half -- and was benched. Against Indiana, he was penalized for a personal foul after a game-winning touchdown for stepping on a player laying on the ground.
His fiery demeanor serves him well in the trenches, but it has also cost him.
He knows he hurt his team.
"I could blame it on being a redshirt freshman last year, just going guns a-blazin' and hoping for the best," he said. "At the end of the day, it's just about being a smarter player."
How can he become a smarter player?
"Just know when the whistle is blown," Lewan said. "I didn't really hear that (from coaches) last year."
This year, that has been a point of emphasis. The result?
Zero penalties through four games.
"I'm due, aren't I?" Lewan said, laughing. "I've definitely noticed that. I've been very cautious about penalties. I'm not ever going to let up, just got to be smart. Got to be a smarter player."
Lewan said being a smarter player is part of growing up.
"I'm an old man now. I'm 20. This is ridiculous. My knees hurt now," Lewan quipped. "Just got to be smart, learn the game of football. Looking back on it, I didn't know anything about the game (last year)."
Lewan is a physical force at tackle. He's gregarious and eccentric (remember that fingerstache?). He's likeable, honest, sharp, hilarious -- and flat-out nasty up front.
He has major professional potential, maybe even as a first-round pick. Seemingly the only things holding him back are his emotions and discipline.
As long as he reigns those in, Lewan can go back to doing what he does best.
"There's no better feeling than taking one guy from one place and pushing him somewhere else against his will," he said.
Kyle Meinke covers Michigan football for AnnArbor.com. He can be reached at 734-623-2588, by email at kylemeinke@annarbor.com and followed on Twitter @kmeinke.