Posted on
Sat, Nov 12, 2011 : 7:13 p.m.
Fitz Toussaint, defense carry Michigan football team at Illinois, 31-14
By Nick Baumgardner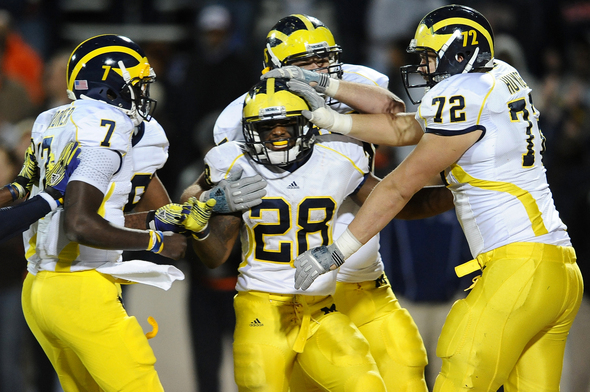 Melanie Maxwell | AnnArbor.com
CHAMPAIGN, Ill. — The Michigan football team was a mess near the red zone, coughed the ball up three times and saw Denard Robinson leave another game due to injury.
But thanks to a throwback performance by its defense, none of it mattered.
No. 22 Michigan limited Illinois to 37 rushing yards, collected a season-high four sacks and yielded just 214 yards of total offense Saturday on its way to a 31-14 victory at Memorial Stadium in Champaign, Ill.
Defensive coordinator Greg Mattison said it was a performance befitting of a true "Michigan defense," while coach Brady Hoke said the game served as redemption for a unit that's taken its share of lumps in recent years.
"That's all you heard about when I took the job here," Hoke said of Michigan's recent defensive struggles. "These kids worked hard and they've invested. That's the neat part.
"Defensively, for a lot of years, Michigan was known for Michigan's defense. And they want to represent that."
Michigan (8-2, 4-2 Big Ten) has its highest victory total since Lloyd Carr coached the Wolverines to a 9-4 mark in 2007.
The win also gives Hoke more Big Ten wins (four) in his first season than former coach Rich Rodriguez totaled in any of his three seasons.
Sophomore running back Fitzgerald Toussaint paced the mostly stagnant Michigan offense with a career-high 192 yards on 27 carries, as the Wolverines held a 362-214 advantage in total yards.
Michigan ran for 223 yards as a team against an Illinois defense that was allowing just 102.9 yards per game entering Saturday.
"Up front is where we executed well," Toussaint said. "They did a good job of opening up holes, and we were able to explode through them and do what we had to do."
Outside of Toussaint, though, Michigan's offensive attack was less than stellar.
Michigan dominated the first half, out-gaining Illinois 249-30, but due to a missed field goal, a fumble and a turnover on downs, the Wolverines had a narrow 14-0 lead at the break.
Michigan's first series of the second half wasn't much better, resulting in a quick three and out and an apparent right arm injury to Robinson.
Sophomore quarterback Devin Gardner entered the game on Michigan's next possession, and couldn't muster much, as the Wolverines were forced to punt.
But Illinois receiver Ryan Lankford fumbled the return, allowing Michigan fullback John McColgan to recover on the Illini 32. Six plays later, the Wolverines settled for a 27-yard field goal from Brendan Gibbons to make it a three-score game with 4:31 to go in the third.
At the time of the kick, Michigan was out-gaining Illinois 288-49.
The Illinois offense showed its first signs on life on the following possession, marching 75 yards in 11 plays before sophomore quarterback Nathan Scheelhaase scampered into the end zone from 13 yards out to make it 17-7.
Michigan appeared to be reeling early in the fourth with the Illini on the move again, but junior cornerback J.T. Floyd intercepted Scheelhaase, returning the ball 43 yards to the Illinois 22.
Three plays later, Gardner found Martavious Odoms in stride for a 27-yard scoring pass, giving the Wolverines control at 24-7 with 9:58 to go.
"That defensive group was bashed around and beat up a little bit (last season), and they have a spirit about them and a pride about them and they want to play well," Hoke said. "Everyone wants to play well, but they've really taken that to heart."
Illinois closed its scoring with an 18-play, 80-yard drive capped by a 1-yard touchdown from Jason Ford with 3:12 to play. Michigan answered, getting a 27-yard touchdown sprint from Toussaint with 2:24 left.
Robinson finished 6-for-10 with 92 yards and an interception. He ran 12 times for 30 yards, two touchdowns and a pair of fumbles. He did not return following his third-quarter injury.
Hoke said Robinson suffered an injury to his wrist, and could have returned to the game had Michigan needed him.
In the first half, Toussaint set Michigan up in scoring position with a 65-yard run on the game's second play before Robinson found the end zone from 9 yards out to make it 7-0 Wolverines early in the first.
Michigan squandered a chance five minutes later when Robinson fumbled just outside the red zone, but the Wolverines recovered on their next drive, marching 41 yards in seven plays before Robinson scored on a 2-yard keeper to make it 14-0 with 12:49 to go in the half.
The rest of the half for Michigan, though, would be a comedy of errors.
The Wolverines turned the ball over on downs inside the Illinois five, fumbled on the Illini 32 and missed a 38-yard field goal during the quarter's final 10 minutes.
Scheelhaase finished 16-for-31 for 170 yards and an interception for Illinois (6-4, 2-4), who has now lost four straight.
The game was a sharp contrast from the matchup a season ago, where Michigan had to rely on a quick-strike offense to overcome a porous defensive effort in a 67-65 triple overtime win.
Hoke said he didn't bring that score up this week.
He didn't need to.
"It's great that the offense was able to lean on us for this game," Michigan senior defensive lineman Ryan Van Bergen said. "Last year versus Illinois, they couldn't.
"This means a lot to us."
Nick Baumgardner covers Michigan sports for AnnArbor.com. He can be reached at 734-623-2514, by email at nickbaumgardner@annarbor.com and followed on Twitter @nickbaumgardner.