Posted on
Tue, Nov 8, 2011 : 5:59 a.m.
Tailback Fitz Toussaint sharpens vision, performance by studying Michigan football greats
By Kyle Meinke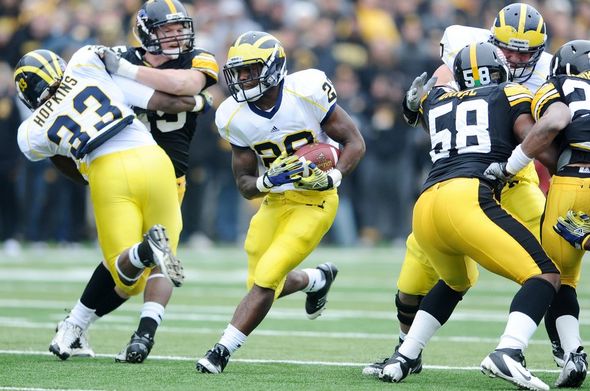 Melanie Maxwell | AnnArbor.com
Brady Hoke
is pinning his hopes on
Fitz Toussaint
becoming the next great
Michigan football
running back.
Toussaint hopes to get there by studying previous great Michigan backs.
Last week, Hoke declared the sophomore to be the team's long-sought featured runner. This week, he officially earned that title on the depth chart for the No. 22 Wolverines' game against Illinois on Saturday (3:30 p.m., ABC).
For the first time this year, there is no "or" separating him from junior Vincent Smith.
Toussaint has steadily separated himself from Smith in recent weeks, and received more than triple the carries the past two games. He had a breakout performance two weeks ago against Purdue, when he had 20 carries for 170 yards.
He said one thing that's helped him make that transition is watching film -- not of himself, not of future opponents, but of former Michigan greats. He's watched scores of tailbacks on YouTube since last year, critiquing them, and borrowing from them.
Toussaint didn't miss a beat when asked who he watches the most.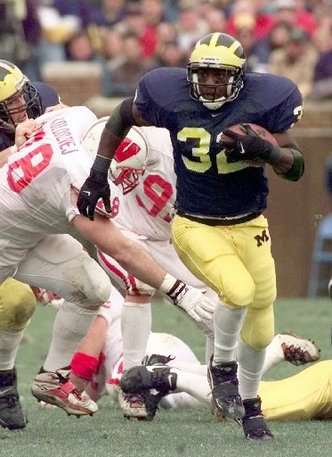 File photo
"A-Train," he said, referring to
Anthony Thomas
, who left Michigan in 2000 as the school's all-time leading rusher. Not a bad guy to look up to.
Toussaint said they have varying running styles, but he respects Thomas' hard-running toughness.
Now, he's bringing some of his own.
"He's a tough guy that makes no concessions to the defense," offensive coordinator Al Borges said last week. "You're going to have to tackle Fitz. He's not just going to go down."
Toussaint's vision also has improved, exemplified on a 59-yard touchdown run against Purdue two weeks ago. He wasn't touched on the play thanks to several precise cuts.
How has Toussaint sharpened his vision? More than anything else, watching that old film of Thomas and other Michigan stars, he said.
"He's really improved in his ability to find the cavities in the defense," Borges said. "When we first got here, his vision wasn't all it needed to be. But, he's gotten so much better. Some guys never get that, but Fitz has."
Toussaint said getting more consistent carries in games, as well as practices, has expedited his growth. He said he is more comfortable now than he was earlier in the season, when he was splitting reps with Smith and fighting for his job on a daily basis.
He averaged 18 carries per game the past two weeks. Against Iowa last week, he had 16 carries for 58 yards and caught a 5-yard touchdown pass for Michigan's first score. The Wolverines scored both times Toussaint got more than two carries on a drive.
"I thought he ran it hard," Hoke said. "I couldn't tell if every cut was the right cut. You'd like to see him accelerate out of a couple of those at times, but I thought he played well."
Toussaint's day was cut short after he aggravated a right shoulder injury that kept him out of the Notre Dame game. He said it's the AC, or acromioclavicular, joint that is ailing him.
It's the third shoulder injury of Toussaint's young career, and second this year. Injuries have become a concern for him.
However, Toussaint said he is fine and doesn't expect to be hampered against Illinois. In fact, Hoke said he could have re-entered the Iowa game, except Michigan was in its hurry-up "NASCAR" offense, which features Smith, not Toussaint.
Kyle Meinke covers Michigan football for AnnArbor.com. He can be reached at 734-623-2588, by email at kylemeinke@annarbor.com and followed on Twitter @kmeinke.