Posted on
Wed, Dec 21, 2011 : 5:59 a.m.
Fitz Toussaint's improved vision ignites season, draws comparisons to USC Heisman Trophy winner
By Kyle Meinke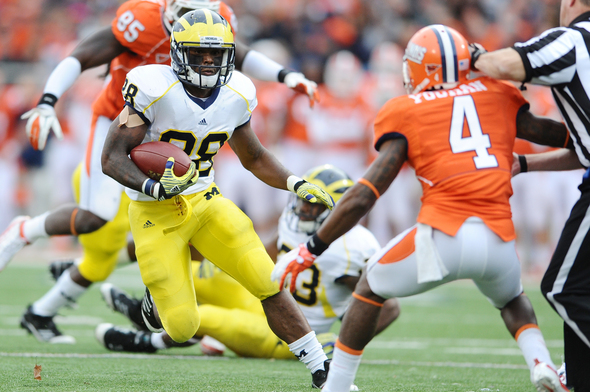 Melanie Maxwell | AnnArbor.com
At one time, the biggest knock on Michigan football tailback Fitz Toussaint was his vision.
It was so bad, in fact, that offensive coordinator Al Borges was worried about what kind of production he'd get out of the sophomore. The introduction of the West Coast offense, a sharp departure from the spread-option, exacerbated the problem in spring camp.
"I had those (concerns) — immeasurably," Borges said at a news conference Tuesday. "The running game was different, just like it was different in the passing game for Denard (Robinson), and he was just running into people, and he was doing just such stupid stuff. And I said, 'God-dog, Fitz.'
"But he don't do that much anymore."
Toussaint came to Michigan in 2009 with a lot of promise, but was beset by injury and vision issues in his first two seasons. He had eight carries for 87 yards last year, but 61 of them came on one carry.
A shoulder injury derailed the rest of the season.
This year, though, Toussaint emerged as the top guy out of fall camp, separated himself from backup Vincent Smith midway through the Big Ten schedule and broke out with a 174-carry, 1,011-yard season. He is the first Michigan tailback since Mike Hart in 2007 to rush for 1,000 yards, and he did it despite sharing the tailback load through seven games.
Toussaint scored five touchdowns and joined Robinson in becoming the Wolverines' two primary targets in the end zone.
Why the breakout?
His vision, actually.
"If there's one part of his game that has made a quantum leap since we got here in the spring, it's that," Borges said.
Why has it gotten better?
"That's playing," Borges continued. "That's knowing where your help is coming on all the blocking, showing the patience to let things develop, then re-accelerating to bust into the open field, running through there 80 percent to see if it's there, then accelerating back up to 100 percent."
Toussaint already had size, strength and a good burst. Add vision to the mix, and Borges said the tailback now reminds him of USC Heisman Trophy winner Charles White.
"You put the (USC) jersey on him, you would hardly be able to tell the difference," Borges said. "That's who he reminds me of — he probably doesn't know who Charles White is."
White won the Heisman trophy in 1979 and was a first-round NFL draft pick in 1980 — 10 years before Toussaint was born.
What makes Toussiant so similar?
"He's a slasher-type," Borges said. "He has demonstrated some really good stop-and-go ability in space. He's beat some guys in the open field and he does a pretty good job of finishing runs because he's a tough guy.
"He can carry the ball 20-plus times because he is a tough guy."
Toussaint got at least 20 carries in four of the team's final five games, and rushed for at least 120 yards each time. He averaged 6.1 yards per carry during that stretch.
Borges said Toussaint, who is soft-spoken and has a hard time talking about himself, hasn't changed much off the field, but also sees a burgeoning confidence in him.
"He's got a little more swag," Borges said. "He's excited now that he feels he's making a significant contribution, and with that comes a certain amount of confidence. But, he doesn't take himself too seriously, either."
Kyle Meinke covers Michigan football for AnnArbor.com. He can be reached at 734-623-2588, by email at kylemeinke@annarbor.com and followed on Twitter @kmeinke.