Posted on
Sat, Nov 26, 2011 : 5:59 a.m.
Five years later: A look back at the 2006 Michigan-Ohio State football game
By Kyle Meinke
Associated Press
Half a decade ago, the Michigan football team lost a thrilling 42-39 game to Ohio State.
The Wolverines were No. 2, the Buckeyes were No. 1, both were 11-0 and The Game was college football royalty. Ohio State advanced to the national title game, and Michigan settled on the Rose Bowl after barely missing out on a rematch.
Things were good for the schools in 2006, and good for the Big Ten.
Turns out, they wouldn't get any better.
In fact, that loss initiated a four-game losing streak for the Wolverines, who proceeded to be handled 32-18 against USC in the Rose Bowl, edged 34-32 by FCS-member Appalachian State in one of the biggest upsets in the sport's history, then crushed 39-7 by Oregon.
That was a dark hour for the program — and things would become worse, as coach Lloyd Carr stepped down after the 2007 season and Rich Rodriguez embarked on the first year of his 15-22 tenure.
The Wolverines sunk to a program-record 3-9 in Rodriguez's first season, ending a XXX-year bowl run, and eventually were slapped with the first NCAA violations in school history.
Michigan entered that 2006 game 11-0. It was 23-21 the next four seasons.
It wasn't until Rodriguez was fired last off-season and Brady Hoke was hired that the Wolverines began to turn things around. They're 9-2 heading into the latest installment of their rivalry with the Buckeyes (noon Saturday, ABC).
That 2006 game should offer a model to which the rebounding Wolverines and embattled Buckeyes can aspire.
"That probably was the first time I really felt something almost bigger," said Ohio State coach Luke Fickell, who was a linebackers coach for the 2006 game. "I didn't know the Ohio State-Michigan game could get bigger than it really was. Ohio State-Michigan is always as big as anything I've ever been around.
"For that one year, not just the entire nation, but maybe the world, realized it."
That world soon would be flipped upside-down, though — even for the Buckeyes and Fickell, who advanced to the national title game (losing to Florida) and have won Big Ten championships each subsequent season.
That run has come to an abrupt halt, though.
Ohio Sate became embroiled in a memorabilia-for-gifts scheme during the off-season that ensnared coach Jim Tressel and quarterback Terrelle Pryor, both of whom fled to the NFL, and led to an NCAA investigation.
The Buckeyes still are awaiting their fate for those violations. Meantime, they're 6-5 this year — under Fickell, who took over for Tressel and has had to deal with waves of suspensions and controversy — and riding a two-game losing streak into the regular-season finale.
Even the Big Ten itself hasn't been the same, with its three flagship football schools — Michigan, Ohio State and Penn State — each coming under NCAA fire and no teams currently ranked in the top 13 of the BCS.
My, how times have changed.
Where are they now?
The 2006 game was loaded with NFL talent. A look at where some of the notables ended up, and how they fared, after concluding their college careers.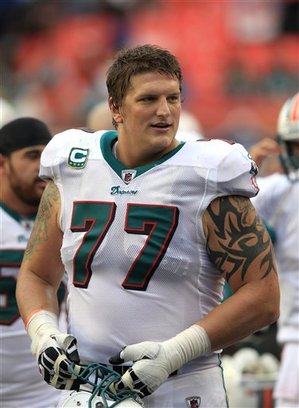 Associated Press
RB Mike Hart: After being cut by the Indianapolis Colts this summer, he is working on the staff at Eastern Michigan this fall as an offensive quality control coach.
WR Mario Manningham: In his fourth season since being drafted in the third round by the New York Giants, he has started each game this season and is third on the team in catches (33) and TDs (three) and fourth in yards (400).
WR Adrian Arrington: Declared for the draft early, but wasn't taken until the seventh round by the New Orleans Saints and has been used sparingly since. He has one catch in three games this season.
WR Steve Breaston: Was a fifth-round pick of the Arizona Cardinals, but blossomed into a quality NFL receiver. Signed a lucrative five-year deal with theChiefs in the off-season, and is second on the team with 33 catches for 483 yards.
LT Jake Long: Since being the No. 1 pick overall in the 2007 draft, has started all 58 games for the Dolphins. Lately has been protecting his college quarterback, Chad Henne.
QB Chad Henne: Is in his fourth NFL season with the Miami Dolphins, who drafted him in the second round, but a shoulder injury has ended his season and it is uncertain if he will reclaim his job.
DE LaMarr Woodley: Was drafted by the Steelers in 2007 and has been part of their defense ever since, including sacking Kurt Warner twice and forcing a fumble in Pittsburgh's Super Bowl XLIII win over the Cardinals. In 2009, he was voted to the Pro Bowl.
DT Alan Branch: After spending 2007-10 with the Cardinals (the team that drafted him 33rd overall in 2007, the same draft where Arizona took Breaston), the 338-pounder has started all 10 games this season for the Seahawks.
LB Shawn Crable: Despite being drafted in 2008, it wasn't until 2010 that he made his NFL debut for the Patriots. He played in six games for New England before being waived. He was signed by the UFL's Sacramento Mountain Lions on Aug. 29.
LB David Harris: Since being drafted by the Jets in 2007, has amassed 482 tackles,161/2 sacks and four interceptions, including one returned for 58 yards in New York's 28-21 win over New England in the 2010 playoffs.
LB Prescott Burgess: A sixth-round draft pick of the Ravens, he was cut by Baltimore on Sept. 3, re-signed Sept. 28, waived Oct. 4, re-signed Oct. 18 and was placed on injured reserve Nov. 2.
CB Leon Hall: After being drafted 18th overall by the Bengals in 2007, Hall had played every game for Cincinnati since, until tearing his Achilles' tendon in the team's loss to Pittsburgh on Nov. 13, a game in which he had three interceptions.
RCB Morgan Trent: Played 30 games for the Bengals over 21/2 seasons until he was released Nov. 2. The Colts signed him Nov. 9 and he played in theteam's loss to Jacksonville, only to be released Nov. 15.
Some notable Ohio State players:
In the NFL:
LB James Laurinaitis, St. Louis Rams.
DB Malcolm Jenkins, New Orleans Saints.
WR Ted Ginn Jr., San Francisco 49ers.
WR Anthony Gonzalez, Indianapolis Colts.
Elsewhere:
QB Troy Smith: Signed with the Omaha Nighthawks this year after four seasons in the NFL, including starting six games with the San Francisco 49ers last season.
OL Kirk Barton: Graduate assistant with the Ohio State football team.
DL Vernon Gholston: Spent three seasons with the New York Jets after they made him the No. 6 pick in the 2008 draft. Signed as a free agent with the Chicago Bears in the summer, but was released during training camp.
DL Quinn Pitcock: A third-round draft pick of the Indianapolis Colts in 2007, he retired after one season, admitting later he was battling depression and a video game addiction. He attempted a comeback in 2010, but was released by Seattle, and was released by the Detroit Lions in September.
Ohio State beat writer Doug Lesmerises of sister company The (Cleveland) Plain Dealer contributed to this story.
Kyle Meinke covers Michigan football for AnnArbor.com. He can be reached at 734-623-2588, by email at kylemeinke@annarbor.com and followed on Twitter @kmeinke.