Posted on
Mon, Jan 2, 2012 : 2:35 p.m.
Flashback: Auburn won Bo vs. Bo matchup in Michigan's last Sugar Bowl appearance
By AnnArbor.com Staff
The Michigan football team last played in the Sugar Bowl in 1984, when legendary coach Bo Schembechler's No. 8-ranked Wolverines faced No. 3-ranked Auburn with All-American running back Bo Jackson leading its high-powered wishbone attack.
On the eve of the current-day Michigan team's appearance in New Orleans (8:30 p.m., ESPN), we reached into the Ann Arbor News archives for the game story from that game — a 9-7 Auburn win.
BY STEVE KORNACKI
News Sports Reporter
NEW ORLEANS — It was hard for Bo Schembechler to understand how his Michigan football team could've lost to Auburn after keeping the Tigers out of the end zone and causing four turnovers.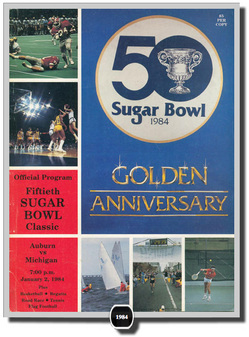 Courtesy Sugar Bowl
After the game, a few well-wishers patted Bo on the back and pressed his palm as he walked from the locker room to the interview room through the bowels of the Superdome. They told him he had prepared his team well and that the defense's performance was superb.
The winningest active Division I coach nodded and said, "They played their guts out, didn't they?" But the scoreboard read 9-7 in favor of Auburn and that was the bottom line in the Sugar Bowl.
"I'm really very humble right now," said Auburn coach Pat Dye. "I'm not so sure I hadn't rather been played Nebraska or Miami tonight than Michigan the way they were playing. Coach Schembechler had them ready. They played like we felt they would. They played good enough to deserve better."
"I credit Michigan for making me make mistakes," said Auburn quarterback Randy Campbell. "Kevin Brooks is the quickest tackle I've ever seen and the rest are something, too."
The Wolverines (9-3) put seven points on the scoreboard with a four-yard scoring run by Steve Smith on their second series of the game. Michigan's defense spent the rest of Monday night trying to protect those points.
Auburn kicker Al Del Greco got the football through the goal posts even if his team couldn't get it through the end zone. His 19-yarder with 23 seconds left brought about the winning points and Auburn's claim of being No. 1 in the country.
The Tigers, 11-1 and ranked third, managed to escape the upsets that claimed No. 1 Nebraska and No. 2 Texas. (Note: Miami (Fla.), which beat No. 1 Nebraska in the Orange Bowl, was voted national champion.)
Auburn was led by All-American Bo Jackson, who rushed for 130 yards and received the most valuable player award. But he wasn't alone. Fullback Tommie Agee gained 93 yards and Lionel James added 83 yards. They tore up the middle of the field, but never broke one longer than 24 yards.
Rick Rogers countered with 86 yards (1,002 for the season) rushing for Michigan, but no other Wolverine surpassed 20 yards. The option couldn't' be depended upon because of the outstanding pursuit of Auburn's defense, and there wasn't the protection time for post pattern passes.
Smith jammed the index finger on his throwing hand in the first half and ended up nine-for-25 with 125 yards and an interception. It wasn't enough for an overwhelming edge over Campbell, who was two-of-six for 21 yards and an interception.
"They have big guys who can move on defense," said Wolverine center Tom Dixon, who added that Smith's finger had bothered him during game preparations in Ann Arbor. "They blitzed more than we thought and gave us more trouble."
While Michigan had to play over Smith's swelling finger, Auburn had to go all but a handful of plays without David Jordan, its two-time All-Southeastern Conference guard who pulled a muscle. The Wolverines also played without injured defensive starters Vince DeFelice at tackle and Mike Boren at linebacker.
"It's a tough loss," said Schembechler, who is 2-9 in bowls. "I could not ask for more from my defense. It's been hurt, but just when it looks like it can't stand up it does. I got enough (from them) to win the game. We did nothing revolutionary to stop the wishbone and just got our kids to believe they could slow this offense down.
"Brad Cochran (an interception and fumble recovery) played great. The Michigan team played extremely hard and the defense played outstanding - it was under constant siege. But we lost due to offensive mistakes.
"Their defensive front kept pressure on our offense and we didn't get enough running. … Steve Smith hit his finger on somebody's helmet in the second quarter and it's black and blue. We dropped some footballs that could've helped us."
Michigan receivers dropped five straight catchable passes late in the second quarter and then Smith began overthrowing them.
"The finger was a little bit of a factor," said Smith, who suffered a separated shoulder in the second quarter of last year's Rose Bowl. "I lost the feeling in it and I don't know if it's broken or jammed. But it didn't affect me that much. We just didn't play well.
"The biggest trouble I had was that I kept getting hit. They had a good defense. If our offense could have moved the ball at all, they wouldn't have had the points they got."
With 7:44 remaining to be played, Auburn was a point short as it began a drive on its own 36-yard line.
Agee went 13 yards on the first play and totaled 32 yards on the drive. But Carlton Rose dropped James two yards behind the line and Jeff Cohen jumped Jackson for a one-yard loss. Jackson got six back on third down, but was stopped at the two.
It was time for Del Greco, who had earlier made good from 31 and 32 yards and missed from 37.
Counting extra points, Del Greco was 113-of-113 on kicks from 30 yards or closer as he approached his crucial 19-yarder. With 23 seconds left, Schembechler called timeout in an attempt to shake Auburn's all-time leading scorer.
"I knew they would call one and it didn't bother me," said Del Greco, who has a 52-yarder and an NCAA record six field goal-game to his credit. "If I had been out there alone, maybe it would have given me time to think about it.
"But my teammates were out there with me, and (tight end) Ed West had tears in his eyes as he looked at me. He told me to do it. All the guys did. I just told my snapper, Brian Dulaney, and holder, Mike Mann, to get it off quick and good."
His teammates mobbed him into a pile as the officials signaled three points. The long maize and blue trimming along the third level fell to the stands as Tiger fans screamed for joy.
With 20 seconds left, Smith hit Vince Bean for 22 yards. With 10 ticks remaining, Triando Markray hauled in another long one and raced around until going out of bounds at Auburn's 25.
But time had run out.
"I think (Markray) thought he was going to go for the business," said Schembechler. "I looked up after the play hoping to see one second left and then we could've kicked it. But there was no such luck."