Posted on
Wed, Jan 12, 2011 : 8:15 p.m.
For Brady Hoke, recruiting process starts with Michigan quarterback Denard Robinson
By Pete Bigelow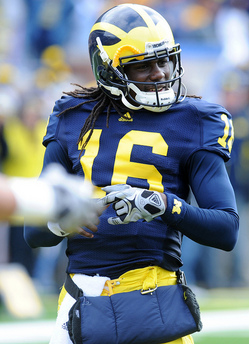 How does a mobile, spread-offense quarterback like Denard Robinson look in the pro-style set that Brady Hoke ran at San Diego State?
Apparently, just fine.
Although he didn't get into specifics Wednesday, Michigan's new football coach signaled that he's willing to tailor his offense around the Wolverines' sophomore standout.
"We understand one thing," Hoke said during his introductory press conference. "We have got a special guy in Denard. He is a guy that can do an awful lot for your football program."
Robinson chatted with Hoke for approximately 15 minutes during a luncheon at Michigan Stadium, at which the Wolverines met their new coach for the first time.
They plan to talk again soon.
Robinson became the first player in NCAA history to both run and pass for more than 1,500 yards in a single season during the 2010 campaign, his first as a starting quarterback.
His strengths were highlighted in the spread offense run by former Michigan coach Rich Rodriguez, who believed in Robinson's quarterback skills when few other colleges were interested.
When Rodriguez was fired last week, Art Taylor, Robinson's high school coach in Deerfield Beach, Fla., cast doubt on whether his former pupil would stay in an offense fundamentally different.
Robinson did not comment Wednesday.
But Michigan athletic director Dave Brandon made it a point to seek a coach who could modify his system to the strengths of existing personnel and not remain rigid in schematic ideology.
"That's a hard way to lead a team," said Brandon, who said he asked prospective coaches about Robinson in the interview process. "You can't have a conversation without talking about Denard, because he is special."
Hoke said he could modify whatever offensive system he employs for Robinson, who finished third in the nation with 1,605 rushing yards and 14 touchdowns.
"I think that when you have talented players, it's your job as a coach to mold that into what's best for your football team," Hoke said.
Some of Robinson's teammates didn't seem worried about Robinson's long-term future with the Wolverines.
"I'm sure he'll come back," defensive tackle Mike Martin said. "It's more important that the family, as a team, stays together. We're close as friends and teammates. I don't think he'll waver in his decision."
As if Robinson's presence wasn't important enough, Brandon announced that backup quarterback Tate Forcier was no longer a part of the program Wednesday.
Forcier was Robinson's oft-needed backup who appeared in eight games during the 2010 season. But the Wolverines found no reason to fret about the possibility of losing their two most experienced quarterbacks.
They're pretty sure Robinson is staying at Michigan.
"He seems pretty upbeat around us," wide receiver Darryl Stonum said. "At dinner today, he was laughing and being his normal self. He was in high spirits. From what I can see, he looks fine."
Pete Bigelow covers the Michigan football team for AnnArbor.com. He can be reached at (734) 623-2551, via e-mail at petebigelow@annarbor.com and followed on Twitter @PeterCBigelow.