Posted on
Sat, Nov 13, 2010 : 5:24 p.m.
Michigan defense puts together a dominant performance for first time this season
By Michael Rothstein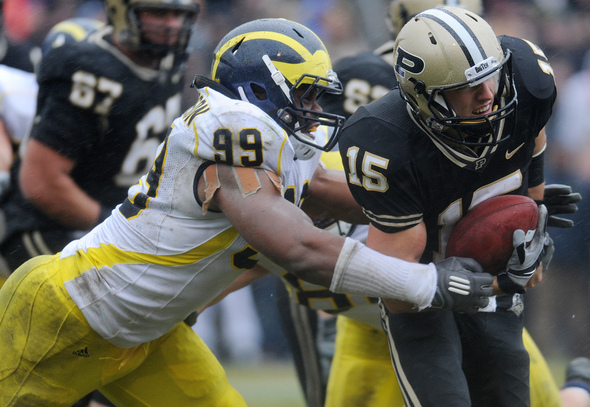 Melanie Maxwell | AnnArbor.com
WEST LAFAYETTE, Ind. - Michigan defensive tackle Mike Martin stood on the sidelines. Reduced to a cheerleader's role as an ankle injury kept him out of Saturday's game at Purdue, he offered encouragement to teammates.
And he watched Michigan's best defensive performance of the season.
Without Martin and Jonas Mouton, its two strongest defenders, Michigan won, 27-16. Without its two best defenders, the Michigan defense was exactly what the Wolverines needed on a rainy, dreary day.
"You always want to be out there," Martin said. But I'm proud of how my guys played."
For the first time all year, Michigan had real reason to feel pride on defense.
The Wolverines forced four of Purdue's five turnovers and held the Boilermakers without an offensive touchdown.
Michigan hadn't done that since it played the overwhelmed and overmatched FCS school Delaware State last year.
"We needed to have a good win like this and have our kids have some confidence coming out of a game, not always having Denard (Robinson) bail us out to win the game and that kind of (thing)," secondary coach Tony Gibson said. "It felt so good to get that thing done and score on defense and create stuff. And then when we did turn it over hold them and get the ball back."
It started early, too.
Hybrid linebacker Cam Gordon picked up a Dan Dierking fumble and returned it 58 yards for Michigan's first touchdown.
It was the Wolverines' first defensive score of the season and first since Ryan Van Bergen took a fumble recovery back 14 yards against Wisconsin on Nov. 14, 2009.
"I had some blockers out ahead of me," Gordon said. "So I stayed behind them and got a feel of what was going on, and then I ran for the end zone."
It wasn't just Gordon. Michigan received standout performances from unlikely places.
Fifth-year senior cornerback James Rogers, who was thrust into a starting role this year when Troy Woolfolk had a season-ending ankle injury, intercepted two passes. Gordon recovered another fumble and reserve linebacker Kevin Leach recovered a muffed Purdue punt return.
Linebacker Obi Ezeh, who lost his starting job midway through the season and has struggled for most of the last two seasons, led Michigan with eight tackles, a sack and two tackles for loss.
In all, a Michigan defense that let every other team in 2010 gain at least 343 yards allowed merely 256 yards. It allowed a season-low 132 yards passing.
Most impressively, for a team that struggled so much on third down this season, Purdue was 2-of-17 third-down conversions.
"On third down, we won," linebacker Kenny Demens said. "We've struggled on third down, but we played with a little swag today."
It was well deserved, even though the Boilermakers were the worst scoring offense in the Big Ten entering Saturday.
For this defense, which was the worst scoring defense in the league coming into the game, it'd take a good performance against any team.
That it came against Purdue, a team that beat Michigan the past two years, was of little consequence.
Wisconsin, Michigan's opponent next week, put up 83 points on Indiana on Saturday. Ohio State has one of the most exciting offensive units in the league.
That's what awaits Michigan the rest of the way, but on this day no one was taking anything from the Wolverines' defense.
"It's awesome to have it," defensive end Craig Roh said. "Obviously your confidence goes up a lot.
"It's great to be this dominant in this game."
Michael Rothstein covers University of Michigan basketball for AnnArbor.com. He can be reached at (734) 623-2558, by e-mail at michaelrothstein@annarbor.com or follow along on Twitter @mikerothstein