Posted on
Sun, May 1, 2011 : 5:52 a.m.
For today, Michigan legend Charles Woodson asks that you forget about Charles Woodson
By Pete Bigelow
This was supposed to be about Charles Woodson, the Heisman Trophy winner and Super Bowl champ.
It should have said the former Michigan football legend threw out the first pitch at a Detroit Tigers game on Wednesday, endorsed Brady Hoke's hiring at Michigan and commented on the judge-imposed lift of the NFL lockout.
And, by the way, that a crowded room of onlookers gushed at the mere appearance of Woodson during his pit-stop at the C.S. Mott Children's Hospital in Ann Arbor on Thursday, when he celebrated "Charles Woodson Day."
Forget all that.
Woodson stepped to a lectern festooned with balloons ostensibly to speak about his $2 million gift to the hospital in 2009, accept an arm-full of trophies and revel in a 24-hour period bearing his name.
Except, as it turned out, he didn't really want to talk about those things. Woodson felt sheepish over the whole spectacle.
"I really became conflicted about the whole thing, because I don't think I'm deserving of a Charles Woodson Day," he said, continuing with a series of off-the-cuff remarks.
"Football is easy for me … it's let me accumulate money. … I think that's the easy part. … With the stroke of a pen, I can write a check and give money to a children's hospital or anything I want. For me, that's easy.
"So to have a Charles Woodson Day for doing things that I feel are relatively easy, it's a bit overwhelming," he said. "I think there are so many other people who are deserving of their own day. … So please, please, take the spotlight off me."
Wish granted.
* * *
A few minutes earlier, David Foy stepped to the same lectern.
His son, Daniel Foy, underwent major heart surgery at the age of four days, then again at age four months and again at 18 months. In the third surgery, he contracted a near-fatal lung condition. At age 2, he was placed in hospice care.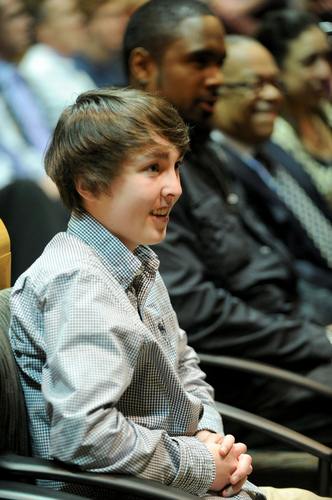 Angela J. Cesere | AnnArbor.com
At age 5, Daniel was Life Flighted from a vacation on a Florida beach into the hospital because the lung condition resurfaced. Doctors removed part of his right lung. His dad recounted more of his harrowing medical battles before cracking with emotion. He never said it, but it is clear David Foy hasn't had a day free of worry in years.
"I hope it helps a lot of families," he said about Woodson's donation. "From a very personal level, I hope it leads to recognition of this condition, and that this research could lead to a better understanding and maybe even a cure."
Daniel, now age 15, watched from the front row. He's an aspiring sports writer. Woodson has agreed to be the subject of his first story.
* * *
A few minutes earlier, Dr. Mark Russell stepped to the lectern. He's working on experimental research that, to a layman, sounds like the equivalent of turning water into wine.
In his lab, he's attempting to take skin cells and grow them into stem cells, which can then be regenerated into heart tissue that forms heart muscle used to repair damaged hearts.
Russell is an associate professor of pediatrics and a named Woodson scholar, which means his position and research are funded by the football player's donation.
* * *
A few minutes later, countless children clamored for a chance to snap pictures with Woodson and get his autograph. Some wore masks over their mouths. Some were in wheelchairs. Some were bald.
They all remained upbeat, eager to spend a few minutes away from their hospital beds and steal a few minutes of time with the Super Bowl champ and Heisman Trophy winner.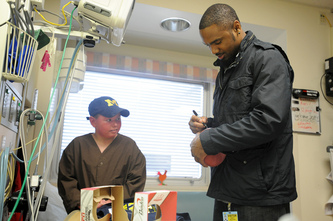 Angela J. Cesere | AnnArbor.com
There are so many of them. That's what stands out.
Children with kidney problems and heart diseases, ailments you can't comprehend, much less pronounce.
It's all, to borrow a word from Woodson, overwhelming. A sucker-punch of emotion swells and steals the words, and you just pray those 348 beds in the new $754 million Mott hospital never need to be used.
Comfort arrives when you remember there's someone trying to help them. He's doing a lot more than signing a check and disappearing, doing much more than lending his name to a cause without much thought.
No name will be used, per his request. But then again, none is needed.
Pete Bigelow covers Michigan football for AnnArbor.com. He can be reached at 734-623-2556, via email at petebigelow@annarbor.com and followed on Twitter @PeterCBigelow.