Posted on
Fri, Jun 11, 2010 : 11:47 a.m.
Ford Field, others interested in hosting potential Big Ten championship game
By Dave Birkett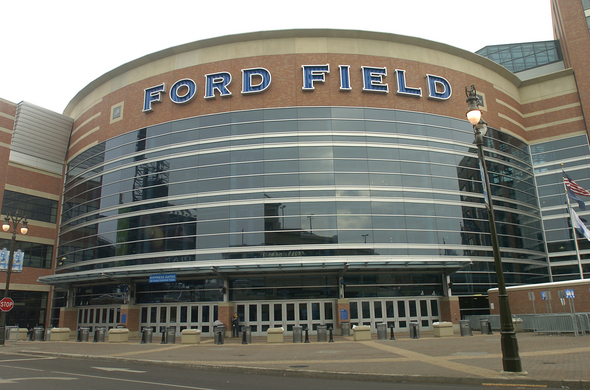 Ann Arbor News file photo
In the past 4 1/2 years, Ford Field has hosted a Frozen Four, Final Four and Super Bowl. Could a Big Ten championship football game be next?
Detroit Metro Sports Commission executive director Dave Beachnau said his group would jump at the chance to bring that event to Michigan should the Big Ten expand to 12 teams and add a title game.
"I don't think there's any question that certainly we'd be interested in throwing our hat in the ring for an event like that," Beachnau said. "It's been successful in other conferences, so certainly I think it would be great for the region and for Ford Field or whatever venue it ends up being at.
"I don't think (the Big Ten is) really saying anything, and we haven't inquired officially about what would transpire. Obviously, they need to get through this expansion first."
Big Ten commissioner Jim Delany said last month the league's expansion push wasn't motivated by the chance to add a conference championship game.
Still, coaches and administrators said that's the next logical step should the league grow to at least 12 teams, the minimum required by the NCAA in order to host a title game.
Nebraska is expected to become the Big Ten's 12th member today, and the league could add two or four more teams. The expanded conference likely won't begin play until 2011 or 2012.
Along with Detroit, representatives of stadiums or sports commissions in Indianapolis, Minneapolis and Chicago all said they'd be interested in hosting a Big Ten title game.
"We would always be interested in a game of that magnitude," said Bill Lester, executive director of the Metropolitan Sports Facilities Commission in Minnesota. "It'd be a terrific event."
Lester said Minneapolis bid to host the first Big Ten men's basketball tournament more than a decade ago, when the league awarded the event to Chicago's United Center. After four years, the tournament began alternating between Indianapolis and Chicago, and in 2008 the Big Ten moved it to Indiana's Conseco Fieldhouse permanently.
It's unclear whether the Big Ten would rotate venues for a championship football game like the Big 12 does, or play the game annually in one spot like the SEC.
Both of those games have flourished, while the ACC - the only other BCS conference to host a title game - has been less successful playing its event in Tampa and Jacksonville, Fla. The ACC game moves to Charlotte, N.C., this year.
"Selfishly, you'd like to keep it one market, especially if it's yours," Beachnau said. "But I think the Big Ten is pretty expansive in some of the markets that they're in and I think it could successfully rotate between two or three or four (cities). And sure, we'd love to have an event like that every three or four years in town. It just all depends on their thought process. Typically, a new event you like to build it up before you start to move it around."
Ford Field and Lucas Oil Stadium in Indianapolis, which hosts Super Bowl XLVI, are the two newest, most state-of-the-art facilities in the Big Ten's current footprint, though Minneapolis continues to push for a new retractable-roof stadium.
Soldier Field in Chicago and Cleveland Browns Stadium also have hosted college football games in recent years, and Soldier Field spokesperson Lucca Serra said playing a Big Ten championship game at an outdoor venue might be a hit with fans.
"The minute that you say, 'Oh, that's going to be a big concern,' the NFL goes and nails down the new New York stadium for the Super Bowl," Serra said. "I don't think it's as big of an issue as it once was."
Regardless of where it's played, a Big Ten championship game will have a significant financial impact on the city that hosts it. In Atlanta, an estimated $30 million is generated annually from the SEC title game.
"I think people would be very interested in (bidding on a Big Ten championship game) and depending on how they set up the deal points, I think it'd be hugely popular," said Susan Baughman, senior vice president of events for the Indiana Sports Corporation. "I'm sure if we get in the race we won't be alone."
Dave Birkett covers University of Michigan football for AnnArbor.com. He can be reached by phone at 734-623-2552 or by e-mail at davidbirkett@annarbor.com. Follow him on Twitter @davebirkett.