Posted on
Tue, May 8, 2012 : 4:25 p.m.
Former Michigan captain Kevin Koger remains upbeat despite suffering 'freak' injury
By Kyle Meinke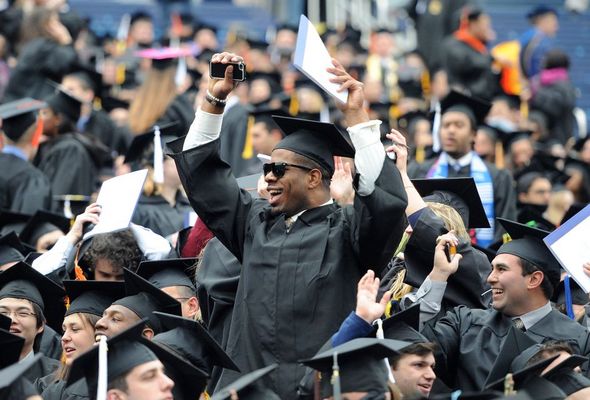 Angela J. Cesere | AnnArbor.com
Kevin Koger was jumping up and down off a box, a plyometric exercise he's done thousands of times in his athletic career.
Up. Down. Up. Down. Up. Down.
But on one March morning, a month before the NFL Draft, that familiar cadence was interrupted by the sound pro hopefuls most dread: Snap.
The former Michigan tight end crumbled to the ground, with only one thought racing through his mind.
"It's over," he recalled this week. "It's over. That's all I was thinking."
It, of course, was his chance of being selected in last month's draft. He was right, too.
Koger partially tore his left Achilles tendon during that March 22 workout at BarwisMethods and will be out for six to eight months. No team selected him in the draft, nor signed him to a free-agent deal.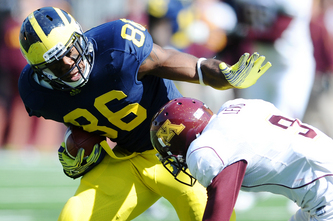 Melanie Maxwell | AnnArbor.com
He didn't even watch most of the draft, which wrapped up the same day he graduated from Michigan with a bachelor's degree in sports management. He attended commencement, then went out for lunch with his family.
He returned home in time for the fifth round -- although he fell asleep, instead of watching.
"What would have been the point?" he said.
Koger heard from a few teams. The Baltimore Ravens called him during the draft -- waking him from his nap -- and the New Orleans Saints texted the next day.
But both said the same thing: We like you. Get back to us when you're healthy.
He said he's shooting for a September return. By then, there's no givens as to who will be looking for a free-agent rookie tight end.
Koger, though, has remained positive throughout the ordeal. He said he was hard on himself in the days leading up to his March 27 surgery, but has since turned it around.
He credits his support system, notably former teammates David Molk and Steve Watson, who took him to see a Detroit Pistons physician after suffering the injury.
"It hasn't been as hard as you would think it would be," Koger said, smiling.
He isn't sure what triggered the injury, although he acknowledged it possibly is linked to previous injuries in the leg.
Koger said he battled a sore left Achilles during the season. He also tweaked his left hamstring in his draft training, and might have been compensating for it.
But that's just speculation. All Koger knows for sure is neither injury was bothering him when he tore the Achilles, and he wasn't doing anything out of the ordinary.
"We do box jumps all the time," he said. "It's not even like I wasn't warmed up. It was our third exercise of the day, and middle of my second set. I was almost done.
"It was just a freak accident. Like Coach (Brady) Hoke says, 'It's football. People get hurt.'"
Koger is faced with a similar challenge as former teammates Molk and Ryan Van Bergen, both of whom suffered leg injuries at the Sugar Bowl that hurt their draft stock.
Molk, the nation's top center, fell to the San Diego Chargers in the seventh and final round. Van Bergen went undrafted and was picked up as a free agent by the Carolina Panthers.
Koger's fate remains unknown, with a long road to recovery ahead of him. But one thing he knows well after his Michigan career -- one that began with a school-worst 3-9 record and ended with a BCS victory -- is the sweet payoff of delayed gratification.
"I guess you appreciate it more when you have to work for something, right?" Koger said. "It's been a hard road, but I've had a smile on my face the entire time."
Kyle Meinke covers Michigan football for AnnArbor.com. He can be reached at 734-623-2588, by email at kylemeinke@annarbor.com and followed on Twitter @kmeinke.