Posted on
Sat, May 19, 2012 : 5:58 a.m.
Bounty systems were part of the game, former Michigan center Steve Everitt says
By Kyle Meinke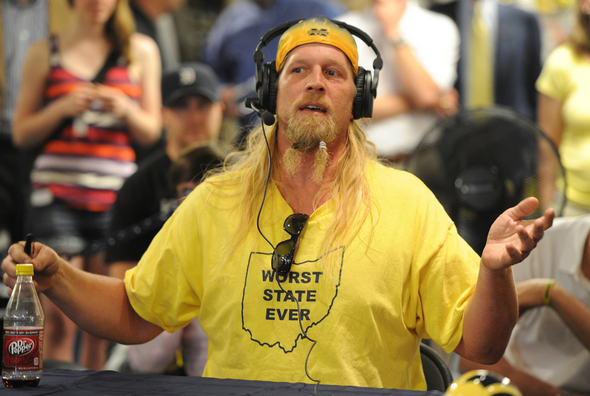 Angela J. Cesere | AnnArbor.com
Former Michigan center Steve Everitt spent the better part of the 1990s in the NFL, and he'll admit it: Bounties were part of the game.
Everitt was a top-15 pick of the Cleveland Browns in 1993, and played the next seven seasons in the league. He said bounties were not "prevalent" during his era, but did surface in key moments.
"Without getting specific, there were definitely times (it happened) when you had a big game coming up, whether it was a big division rival or something," Everitt said Friday during WTKA's benefit for C.S. Mott Children's Hospital.
"In the heat of the moment ... somebody would get fired up and get tired of watching someone make plays from the last time he played a team and someone would jump (in a team meeting) and be like, 'If so-and-so doesn't get any tackles, I got however much money.' That did happen."
Bounties have become a national talking point in recent weeks, after the NFL accused the New Orleans Saints of putting up thousands of dollars for hits that took out opposing teams' star players from 2009-11.
That includes $10,000 prizes for injuring Cardinals quarterback Kurt Warner and Vikings quarterback Brett Favre during the 2010 playoffs.
The NFL suspended coach Sean Payton and linebacker Jonathan Vilma for the season. Defensive coordinator Gregg Williams, the purported architect of the bounty system, is suspended indefinitely.
Three other players -- defensive end Will Smith, defensive lineman Anthony Hargrove and linebacker Scott Fujita -- received shorter suspensions. They've each appealed their punishments, as has Vilma.
"For us down there, we're just moving like nothing happened," said former Michigan receiver Adrian Arrington, who has played for the Saints since declaring for the NFL in 2008. "In our facility, it doesn't really get talked about. It hasn't really affected any of us at all."
Arrington said he never knew of the Saints' bounty program because the offense and defense operate independently.
According to Everitt, the Saints aren't the only team that installed a pay-for-pain system. They've apparently been a part of the fabric of the game for years.
"I don't want to pass judgment on these guys from the Saints," he said. "I want to wait because who knows what actual specific information they have on these guys?"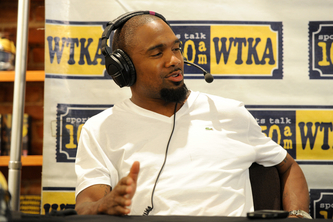 Angela J. Cesere | AnnArbor.com
Heisman Trophy-winning cornerback Charles Woodson said the punishment for Vilma is stiff, but appropriate if the NFL wants to stem the creation of bounty programs.
He didn't always have that opinion, though.
"At first, I of course thought, 'Man, that's a pretty stiff penalty, to take away his whole season,'" Woodson said. "But the more you look at it, if you try to stop something, you try to send a message.
"I'm not going to say whether or not the commissioner (Roger Goodell) was right or wrong, but I think he's trying to figure out what works, and if that is something that's going on in the NFL, I can guarantee you guys are going to think twice about ever trying to put money on a guy's head."
Woodson, a 14-year NFL veteran who has played for the Oakland Raiders and Green Bay Packers, said he's never heard talk of bounty systems in his locker rooms. He added he doesn't think they're needed, anyway, because the game is violent enough without them.
But they've clearly occurred, and the former Michigan players want them gutted from the NFL.
"I think you have to stomp out the fire before it gets too big," said Steve Hutchinson, a former Michigan All-American and seven-time Pro Bowl offensive lineman. "You know it went on.
"It's just like the elusive UFO everybody keeps talking about. You never see one, but you hear of it."
Kyle Meinke covers Michigan football for AnnArbor.com. He can be reached at 734-623-2588, by email at kylemeinke@annarbor.com and followed on Twitter @kmeinke.