Posted on
Sat, May 14, 2011 : 8:01 p.m.
Former Michigan coach Lloyd Carr back in the spotlight, right where players feel he should be
By Michael Rothstein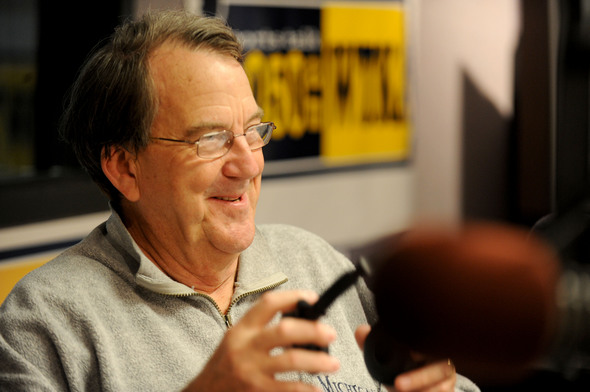 Angela J. Cesere | AnnArbor.com
Lloyd Carr was around, but you had to look hard to find him.
After 13 seasons as the Michigan football head coach, he avoided center stage while Rich Rodriguez led the program for three seasons.
Carr had an office in Weidenbach Hall for a couple of years after retiring following the 2007 season and the title of associate athletic director until 2010. He made appearances at fundraisers and gave speeches.
He often declined to publicly comment on the football program. He was active and local, but fairly quiet considering he carried a 122-40 record and a national championship into retirement.
Now, that's changing.
Since Michigan hired Brady Hoke to lead the football program, Carr has accepted a larger role with the football program. He may not coach anymore, but his sphere of influence is obvious.
Champions for Children's Hearts Weekend
$3.7 million donated in Lloyd Carr's name
Carr's reaction: "I was really emotional"
Carr named to College Football Hall of Fame
WTKA Mott Takeover raises more than $100,000
Slideshow: The WTKA Mott Takeover
"Michigan Rivalry" package should draw big bids
It is perhaps no more evident than this weekend. While Charles Woodson, Brian Griese and Steve Hutchinson have their names all over the three-day C.S. Mott fundraiser in Ann Arbor, it is really about one man. Carr.
Saturday night, at a gala that is part of the C.S. Mott event, the Al Glick family donated $3 million to Mott Children's Hospital to name the seventh floor of the Children's Hospital "The Coach Carr Pediatric Cancer Unit."
"That's what this school needs, he's like Bo (Schembechler)," former offensive lineman Jake Long said. "He's the face of this program. He's had such a big footprint in this university, and I think you do need him out front to know he's got the support of the team and the coaches."
His former players, the ones coming back every year for this fundraiser, added another $735,000 entering Saturday night's fundraiser.
While Mott has ties to Michigan football, Carr's influence over the project and the program is obvious.
"Lloyd did it by being Lloyd," Hoke said. "He's genuine, honest, has compassion. Loves his players, and that's why they come back. They come back for this great event and great cause, but don't think they don't want to spend a great evening with their old coach, because that's important."
Most of the returning alumni played for him during his 13-year head-coaching career. Carr won a national title in 1997 and won or shared five Big Ten titles.
As what he added to the initial legacy of Schembechler and Gary Moeller fell apart over the past three years, those same former players grew frustrated.
Michigan was losing. Carr seemed disconnected. Traditions built by Schembecher and continued by Carr went by the wayside.
For the first time in almost half a century, the Wolverines struggled in three consecutive seasons, going 15-22 with one bowl game appearance, a 52-14 Gator Bowl loss to Mississippi State.
"It was hard on Lloyd, I know it was," said former Michigan cornerback Morgan Trent. "To have Michigan at the level that he got us and to see it dramatically fall off so quickly, to see things change and traditions stop, that's got to be tough for him."
Former players still heard from Carr, who continued his love of Michigan football. But they didn't see him around as much — and those former players said Friday during WTKA's Mott Takeover radio-thon that they understood his reasoning for hanging back.
But they want him in front.
"As he should be," Trent said. "How you don't want a man of his stature around, who has given so much to this university, how you wouldn't want him around your organization is ridiculous to me.
"It just makes complete sense."
That Carr clearly supports Hoke, his former defensive line coach, invigorated his former players. The Mott Takeover became a virtual Carr/Hoke lovefest, with player after player gushing about Michigan's former coach and its current one. Having Carr support Hoke is critical to the program. Hoke is adding to this by traveling across the country to meet with former players and sell his vision of Michigan football.
"Maybe it's a little bit selfish, but it's important for us that (Carr) believes in who the current coach is and we trust in him," former Michigan tight end Jerame Tuman said. "He obviously knows more about what's going on than we do, so it is absolutely important he's involved."
Throughout the past three years, the influence Carr had was behind the scenes and throughout the Michigan athletic department. He stayed involved with Mott. He reached out to Michigan softball player Bree Evans when she was injured and hospitalized following a home plate collision during a fall ball game in 2009. He also stayed in touch with alumni and players.
But publicly, it looked different. The perception bothered segments of Michigan's football base.
"What really gets me going is when people say stuff that he turned his back to Michigan," former Michigan tight end Aaron Shea said. "That is so far from the truth."
Now that perception can disappear. Carr is back in the public eye, and almost everyone around Michigan's football problem has no problem with that.
Michael Rothstein covers University of Michigan basketball for AnnArbor.com. He can be reached at (734) 623-2558, by email at michaelrothstein@annarbor.com or follow along on Twitter @mikerothstein