Posted on
Thu, Mar 10, 2011 : 3:51 p.m.
Former Michigan coach Rich Rodriguez offers some support to Jim Tressel
By AnnArbor.com Staff
Amid a firestorm of criticism, Jim Tressel received some backing from one of his former rivals. Rich Rodriguez never beat Tressel during his three years as coach of the Michigan football team, but offered the embattled Ohio State coach a little support on a national radio show earlier today.
Rodriguez, while admitting he didn't know every fact behind Tressel's recent suspension and fine, told ESPN Radio's Colin Cowherd that while "there are some guys out there that bend the rules a little bit or they get around the rules and try to get a competitive advantage," he doesn't think Tressel is part of that crowd.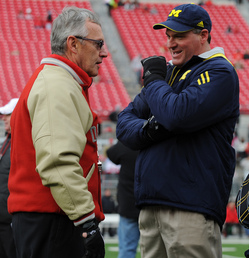 AnnArbor.com file photo
"There's coaches out there that are trying to get a competitive advantage the wrong way, a handful, and they seem to get away with it," Rodriguez said. "And there are other coaches that are really trying as hard as they can, doing everything in good faith, and they seem to get nailed. I think that's the thing that frustrates coaches, like, 'Geez look at what these guys did, and they're winning and they did all that.'"
Later, Rodriguez said that while there's plenty of shady recruiting practices in college football, he never heard of any coming from the Wolverines' most bitter rival.
"In my experience in three years of recruiting against them, we didn't sense that, 'Hey, Ohio State is one of these schools that are on the edge,'" Rodriguez said. "There were others we thought were doing that."
Rodriguez wouldn't name the schools he thought were guilty of negative recruiting, but said "some of them are getting looked at right now. So that will come out here pretty soon."
Find the full audio of the interview at ESPN.com.