Posted on
Mon, Nov 21, 2011 : 5:53 p.m.
Former Michigan coach Rich Rodriguez taking over at Arizona, reports say
By AnnArbor.com Staff
Updated story: It's official: Former Michigan football coach Rich Rodriguez hired by Arizona
Reports are circulating that former Michigan football coach Rich Rodriguez has agreed to be the next coach at Arizona.
A source told The Associated Press that the hiring was "pretty much" done, but that no official announcement was coming immediately. The person spoke Monday on condition of anonymity because contract details were still being finalized.
Arizona spokesman Tom Duddleston told the AP he had no information on a hiring and athletic director Greg Byrne did not immediately return messages left on his cell phone.
Bruce Feldman, a columnist and commentator for CBS Sports, tweeted the following at 5:19 p.m. Monday: "Expect Rich Rodriguez to be named the Arizona head coach in the next 48 hours according to sources."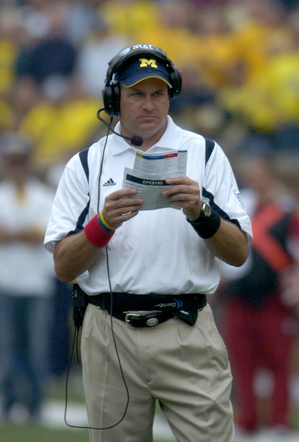 Rodriguez has
worked for CBS Sports as a college football game and studio analyst
this season.
Rodriguez was fired from Michigan in January, four days after a 52-14 Gator Bowl loss to Mississippi State. He compiled a 15-22 record in three seasons with the Wolverines.
Arizona fired Mike Stoops in mid-October and replaced him with interim coach Tim Kish. The Wildcats are 3-8 and coming off an upset of rival Arizona State.
Stoops was 41-50 in seven-plus seasons at the Pac-12 school.
Rodriguez apparently turned down Tulane this morning, according to The New Orleans Times-Picayune, which also reported that Arizona planned to make an announcement this evening.
Arizona Daily Star columnist Greg Hansen wrote today that Arizona might want to move quickly, because Arizona State may soon need a new coach, too.
Hansen on the situation:
Ask yourself this: If UA director of athletics Greg Byrne and ASU's Lisa Love both were to appeal to Rich Rodriguez, or to Mike Leach, "Please coach my team," which job would that coach prefer?