Former Michigan football great Bob Chappuis dies at 89
Posted on Fri, Jun 15, 2012 : 3:33 p.m.
One of the Michigan football program's most celebrated offensive backs, former Heisman Trophy runner-up Bob Chappuis, has died at the age of 89.
Chappuis, leader of Michigan's 1947 "Mad Magicians," passed away at the University of Michigan Hospital on Thursday in the company of his wife, Ann, and their four children, according to a university release.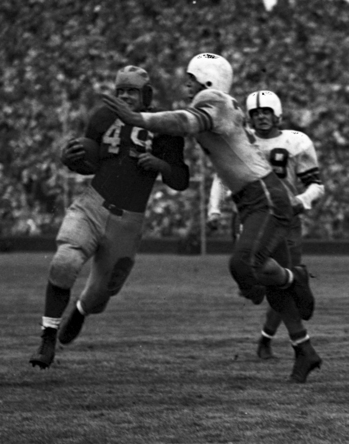 AnnArbor.com file photo
A College Football Hall of Famer and Michigan Hall of Honor member, Chappuis was a multi-faceted back for the Wolverines from 1942-48. He also earned two varsity letters as a baseball player while in Ann Arbor.
Such a dominant player, Chappuis was made famous in November 1947, when his pictured graced the cover of Time Magazine.
As dynamic as Chappuis was on the field, perhaps the most interesting part of his Wolverine career was its interruption in 1942 by World War II.
During the war, Chappuis served as an aerial gunner and radio operator on B-25 bombers. His plane was shot down over Italy during his 21st mission, but he was eventually rescued by an Italian family. He remained in Italy until the conclusion of the war.
After the war ended, Chappuis resumed his playing career at Michigan in 1946. In 1947, he paced Michigan to an unbeaten national championship season. Toward the close of that year, Chappuis finished second to Notre Dame quarterback Johnny Lujack in the Heisman Trophy voting.
Chappuis still holds the Big Ten's single-season passer rating record (175.3) and the Michigan record for yards per completion in a season with 18.8.
Following his college career, he played two years of professional football with the Brooklyn Dodgers and Chicago Hornets in the All-America Football Conference.
Chappuis was set to be inducted into the state of Michigan Sports Hall of Fame this fall.