Posted on
Fri, May 13, 2011 : 4:05 p.m.
Former Michigan football players on Ohio State investigation: 'No one was surprised'
By Michael Rothstein
Former Michigan cornerback Morgan Trent heard the NCAA allegations against his former rival Ohio State, and he wasn't surprised.
After all, Trent said Friday during the annual WTKA Mott Takeover, it is kind of what they had heard through rumors before.
"I don't think anybody sitting at this table was surprised to hear that information," Trent said. "No one was surprised to hear that. I think everyone has known all along that something more was happening.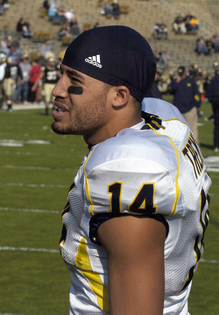 File photo
"Are they the only school in the country to do it? No. But they are starting to crack down on it, and it is too bad (they) got caught."
Ohio State's football program and its coach, Jim Tressel, have been accused of a litany of NCAA violations, including having players trade gear for free tattoos, having players and family of players receive discounts on car purchases and Tressel, specifically, for not being forthcoming with the information as soon as he knew about it.
Tressel, for his part in the scandal, has been suspended five games of the 2011 season.
"At Michigan, we're by the book here, we did things the right way and are doing things the right way," Trent said. "I can't say that about the school down south, and, obviously, that's coming to light what they do.
"If they are going to recruit players and get players by giving away vehicles and doing this and doing that, then more power to them, but that's not working out for them."
He wasn't the only one who had strong opinions about what is going on at Ohio State.
"Karma," former Michigan tight end Aaron Shea said. "The NCAA better come in hard on these guys."
At least one former Michigan player, though, doesn't want to see Tressel fired. Former running back Mike Hart wants the legendary Ohio State coach — who has beaten Michigan in nine of 10 years as head coach — on the sidelines this fall for one reason.
So Michigan can beat him.
"I'd rather beat Ohio State with Tressel as their coach than beat them with another coach," Hart said. "Just like another school in Michigan, they've been real happy they've beaten us the past couple years. But a lot of teams have beaten us the past couple years. It isn't anything to brag about.
"I'd much rather beat Ohio State with Jim Tressel as their coach than him not be there."
Michael Rothstein covers University of Michigan basketball for AnnArbor.com. He can be reached at (734) 623-2558, by email at michaelrothstein@annarbor.com or follow along on Twitter @mikerothstein