Posted on
Tue, Sep 21, 2010 : 10 a.m.
Former Michigan kicker Bryan Wright returns to Ann Arbor this weekend with Bowling Green
By Michael Rothstein
As Bryan Wright performed squats and cleans in the Schembechler Hall weight room at the end of last football season, with little weight on the bar and three bulging discs in his lower back, he had enough.
The pain, after two years, was too much.
With graduation from the University of Michigan on the horizon and concern for his long-term health in mind, Wright went to coach Rich Rodriguez and told him he wouldn't be returning as a fifth-year senior.
"I had one more year left and wanted to play, but I went to that workout and, basically, it made my decision," Wright said. "It was a tough workout and I felt miserable and said 'I can't go on doing this stuff again.'"
Which is why what Michigan fans will see on Saturday is so unexpected.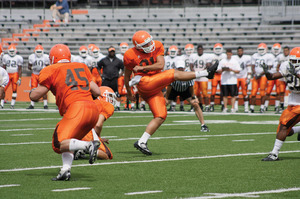 Photo courtesy Bowling Green
Wright will enter Michigan Stadium as a player one last time. He'll put on his pads, warm up and kick in front of 110,000 people. Just this time, it'll be for Michigan's opponent Saturday, Bowling Green (noon, ESPN2).
Used strictly as a kickoff specialist for three seasons at Michigan, Wright will handle kickoffs, punts and place-kicking for the Falcons (1-2).
"Never thought that would be a possibility," said Wright's mother, Jody, whom he consulted with before making his decision to leave Michigan. "Crazy, isn't it? So we'll see how he does."
How Wright reached this point is due to some fortuitous timing and hard work.
When he decided he'd give up football, it was to fix his back. He worked out. He did some light running. Twice a week, while finishing his last semester at Michigan, he drove to Jackson to visit a chiropractor.
Weeks turned to months and, slowly, Wright healed. His back, once a constant source of pain and discomfort, began to feel better.
Already accepted to Bowling Green as a graduate student majoring in hospitality management, Wright learned of an NCAA rule that would allow him a final year of eligibility if his new school had a graduate degree program that his old school didn't. Michigan doesn't offer a hospitality management graduate program.
Wright contacted Bowling Green coach Dave Clawson and asked if he had a spot for a walk-on. Clawson's response, Wright said, was "absolutely."
The Bowling Green coaches are also being safe with Wright. They limit his kicking and punting during the week to make sure he is fresh for Saturdays and to make sure his back no longer acts up.
Soon after he walked on to Bowling Green, word filtered to Ann Arbor. Wright would return to Michigan this year. As an opponent.
"He seemed excited about the opportunity," Rodriguez said. "We weren't even sure if he was going to play anymore. When he first finished up with us, graduated, we thought he was going to be done.
"But with the graduate school exception, it became an opportunity for him to play one more year."
The irony for both Wright and Michigan is the current kicking conundrum with the Wolverines. While Wright handles all kicking duties for Bowling Green, Michigan is still unsettled on special teams. Brendan Gibbons and Seth Broekhuizen are a combined 1-for-5 on field goal attempts and have three touchbacks on 18 kickoffs. Freshman punter Will Hagerup has struggled in his first three games, as well, averaging 39.0 yards on 11 attempts.
Yet Wright refuses to think about alternative possibilities.
"I try to live life with no regrets," Wright said. "I know Brendan (Gibbons), he's one of my good friends. He's a good guy, great kicker. He had first-, second-game nerves. The first home game and first away game are two huge games in a person's career, especially in playing for Michigan.
"There's a ton of nerves on your back. He's a great kicker and I think he'll end up pulling through in the end."
Wright knows all about nerves. He suffered through his own a couple weeks ago in Troy, Ala. His 35-yard punt on the first possession of the Falcons' 30-27 loss to Troy was his first in a college game. His point-after kick on the team's next possession was his first collegiate point.
After three weeks, Wright has made three of six field goals -- a long of 27 yards -- and is averaging 42.7 yards per punt.
"Two things (jumped out)," Bowling Green special teams coach Adam Scheier said of his first impression of Wright. "One, just how strong his leg was live and in person, how live the ball was and how it jumped off his foot.
"The other thing was his calm demeanor, the confidence that comes from being a fifth-year senior and kicking in some big venues. You can't really teach that."
Saturday, though, could be different. It's why Wright's process of preparation -- visualization of everything that is going to happen on a particular Saturday -- is a bit more detailed this week.
He knows what the crowd is going to be like. He knows what the stadium looks like, how the wind can blow in Michigan Stadium and what the reactions are likely to be. He's even imagined what his friends-turned-opponents Ryan Van Bergen and Mike Martin might shout at him.
"They are my good buddies," Wright said. "I could see them trying to make me laugh or something.
"But every time I kick the ball, in my mind, I imagine myself making the field goal or making a 60-yard punt or something. It's a great technique and it's been working so far."
Michael Rothstein covers sports for AnnArbor.com. He can be reached at (734) 623-2558, by e-mail at michaelrothstein@annarbor.com or follow along on Twitter @mikerothstein