Posted on
Wed, Sep 8, 2010 : 11:38 a.m.
Former Michigan quarterback Steven Threet quietly resurfaces, wins starting job at Arizona State
By Pete Bigelow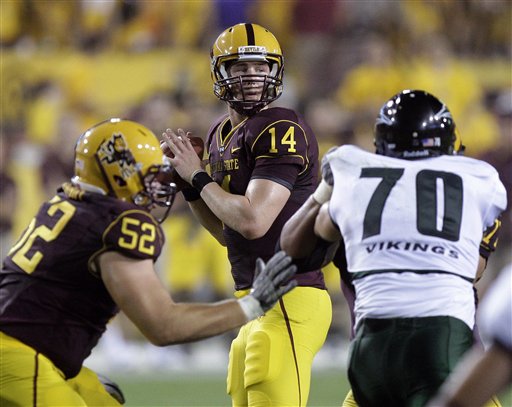 Associated Press
Heaps of attention have been paid to Ryan Mallett, the former Michigan quarterback who's been labeled a sure-fire Heisman Trophy contender and can't-miss first-round NFL Draft prospect at Arkansas. He's not the only former Wolverines quarterback starting elsewhere this fall. Far away from the spotlight, Steven Threet has quietly resurfaced as Arizona State's starting quarterback after winning a two-way race during summer camp.
On Saturday, he made his first start in 22 months, completing 14 of 21 passes for 239 yards and two touchdowns in a season-opening win over Portland State. "It was a lot of fun to get back out there," he said Tuesday. "I was a little antsy before the game. It had been a while since I played." It's been a long road for Threet, who's in the unusual position of college journeyman. He arrived at Georgia Tech in 2007 as one of the top 10 quarterback prospects in the nation, 6-foot-6 and 230 pounds, but after the coaching staff that recruited him was ushered out, Threet transferred to Michigan. Per NCAA transfer rules, he sat out the 2007 season. At the end of the season, Michigan coach Lloyd Carr retired, and Threet wasn't a fit for new coach Rich Rodriguez's offense. He stayed at Michigan anyway, and after Mallett transferred, wound up starting eight games during the 2008 season, completing 51 percent of his passes and throwing nine touchdowns and seven interceptions. But by the next year, he had to weigh his long-term interests: stick it out at Michigan or find a pro-style offense elsewhere? "It was definitely difficult, having played, and knowing I was going to sit out another season," Threet said. "When I had the chance to come down here on my visit and to see what was going on, it was just definitely something I wanted to be a part of." He didn't immediately know it at the time, but his struggles at Michigan - he was a first-year quarterback leading an offenses loaded with inexperienced players through the most difficult Michigan season in four decades - helped him at ASU. After sitting out the 2009 season, he struggled in spring practice. He beat himself up a little bit, but came to a conclusion. "Just realizing mistakes would get made, that there would be days the offense didn't look great or I didn't look great, and understanding that there would be bumps in the road is how you deal with them," Threet said. "That's what I focused on personally, and I think that led to a lot of improvement." By the end of the summer, he had beaten Brock Osweiler for the starting job. Arizona State coach Dennis Erickson was pleased with that decision after the Portland State game. "I thought he had great presence about him out there," Erickson said. "It looks like he's been there before, which he has. I guess there's no substitution for having played. … "Probably more than anything, he had great command of the game." He's got a little running ability too. No one would mistake Threet for Denard Robinson, but he rushed for 201 yards during his injury-riddled eight starts at Michigan and opened the 2010 season with four carries for 24 yards. It's an aspect of his game that he takes pride in. "I think I take it when it's there," he said. "Me running the ball is not our biggest threat offensively. It is something that we can get some positive plays out of. I'm glad I'm able to help the running back out and keep the defense honest.
"I might surprise some people athletically. I've done it before."
Pete Bigelow can be reached at (734) 623-2556 or emailed at petebigelow@annarbor.com. Follow him on Twitter @PeterCBigelow.