Posted on
Thu, May 24, 2012 : 10:58 a.m.
Former Michigan standouts Marlin Jackson and Tim Massaquoi aim to help young NFL prospects
By Nick Baumgardner
There's a lot more to being a professional football player than showing up on Sundays and cashing your game check.
Former Michigan football tight end Tim Massaquoi knows from experience.
If you're not careful, you could get burned.
"When someone says, 'You go play football, I'll take care of this money so you can take care of football,' No, that's not a good idea," Massaquoi said. "It sounded great at the time.
"But it's not a great idea, and I got burned."
After leaving Michigan in 2005, Massaquoi -- a seventh-round NFL draft choice -- spent two years in the National Football League.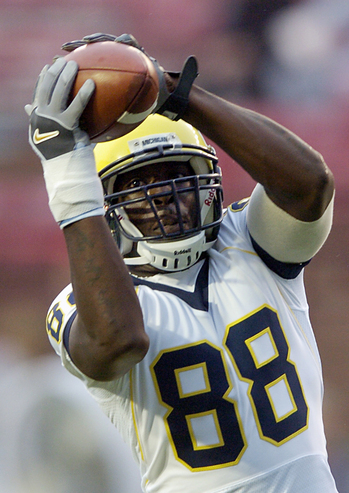 AnnArbor.com file photo
He wasn't signing multi-million dollar contracts, but he did suddenly have more money than he knew what to do with, more responsibilities than he was ready to handle and more outside pressure from people than he expected.
And, over the course of time, he paid for it.
"It could be something as simple as a bad car deal," Massaquoi said. "I had this guy, an advisor, who said, 'Go play football, I'll get you a car.' All the legal stuff and fine print, I didn't look through it and you don't because it's so easy not to.
"But with me, three years later, I'm stuck with this crazy car payment and I'm not playing football anymore."
Massaquoi and former Michigan teammate and roommate Marlin Jackson, an All-American defensive back from 2001-04, plan on doing their best to make sure other young NFL players don't suffer the same off-field experiences they went through.
Together, the duo is currently developing a life skills program called "Prepare to Succeed," or PTS.
The premise of PTS is to target NFL draft-eligible college football players and educate them on the nuances of becoming a professional athlete with a suddenly large bank account.
The NFL has a rookie symposium that covers some of these challenges, but Jackson and Massaquoi say that's not enough.
"A lot of guys come out of college (just) looking at football, 'I'm a football player, and this is what I do.' That's it," said Jackson, who has spent six years in the NFL and is currently a free agent. "My financial advisor is going to handle my money, my agent's going to handle my contract and I'm not going to be involved. That's the biggest mistake guys make.
"That's why basically 80 percent of guys go broke two years after their NFL career is over, and it all starts right from the beginning."
Jackson and Massaquoi have been developing PTS for the past year and a half, and hope to eventually get the NCAA involved with the program, perhaps even making it mandatory for all student-athletes entering professional football.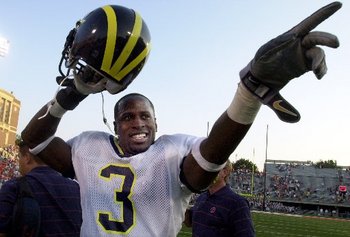 AnnArbor.com file photo
The PTS program would involve education on how to understand the ins and outs of managing money and everything that comes with it.
From the details involved in a housing mortgage to a car payment or balanced check book, the program will cover it. It'll also go over the reality that professional football doesn't last forever, and players need to begin understanding that much earlier in their respective careers.
Additionally, PTS will cover the basics of being a functioning, self-reliant adult in society. In college, most student-athletes have their days completely planned for them.
Most of that changes once professional life begins.
"It's kind of (comes) from being pampered in high school and college, everybody is telling you you're the greatest and this and that," Jackson said. "Everything's being done for you and then once you get out on your own, it's your responsibility.
"They're not transitioned for life because there's a crisis of self-identity, not understanding who they are, what they're into and what it is they want to do with their life outside of football."
Also, Jackson says it's important players understand that they can't "take care" of everyone involved in their lives financially.
No matter how hard they may push.
"(The NFL) doesn't really tap into the difficulties you'll face with your family, people coming at you for money, expecting you to take care of them," Jackson said. "Trying to provide for everybody, you can't do that. How do you handle these things?"
"We're talking about making wise decisions. We're not trying to tell guys what to do, we're trying to give them options and let them know what's out there.
Jackson and Massaquoi are currently working on developing a PTS pilot program to run at Michigan, with hope that it will eventually spread to a much larger scale on the national landscape.
If successful, the duo may be able to prevent some of their own personal financial shortcomings from reoccurring for generations to come.
"It's about being a kid with a lot of money, a lot of new experiences and responsibilities and having the understanding how to take care of yourself," Massaquoi said. "We're just coming from the standpoint of, if you're mind's well, your body's well, you'll be well.
"Because football's not going to last forever. You need to have a passion, that's why guys go broke -- because football is all they know."
Nick Baumgardner covers Michigan sports for AnnArbor.com. He can be reached at 734-623-2514, by email at nickbaumgardner@annarbor.com and followed on Twitter @nickbaumgardner.