Posted on
Wed, Dec 21, 2011 : 1:13 p.m.
Former Michigan star Braylon Edwards honors promise he made to 8th-graders in 2005
By AnnArbor.com Staff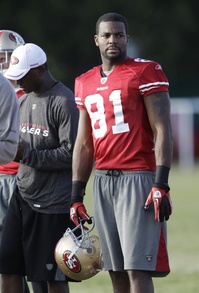 Paul Sakuma | AP Photo
Former Michigan football player
Braylon Edwards
kept a promise he made in 2005, and it means he is playing for free this season in the NFL.
ESPN's Rick Reilly caught up to Edwards, who promised 100 eighth-graders that he'd give them $10,000 toward college if they carried at least a 2.5 grade-point average, did 15 hours of community service and were exemplary students. Seventy-nine of the 100 in the program met the requirements.
Edwards, who was a rookie with the Cleveland Browns when he made the promise, now is with the San Francisco 49ers. His promise is basically equal to his current salary.
"That's how it goes sometimes in life," Edwards said in a video interview with Reilly. Watch the complete story below.