Posted on
Sun, May 8, 2011 : 9:31 a.m.
Former Michigan tight end Martell Webb and other undrafted players now in NFL limbo
By Michael Rothstein
Martell Webb sat with his family and watched the end of last weekend's NFL Draft. As the rounds crept from 4 and 5 to 6 and 7, the former Michigan tight end's phone started to ring.
Teams told him to be patient and that they might draft him. None did. It left Webb and hundreds of potential undrafted NFL free agents in the same spot.
Limbo.
"Everyone wants to be a part of a team and get started," Webb said. "But there are lockouts and work stoppages, so you have to live your life until they stop."
Webb's future is uncertain. Like most NFL players, he has no idea when the lockout will end and the daily will-it or won't-it gets monotonous as he continues to train for a chance at a tryout.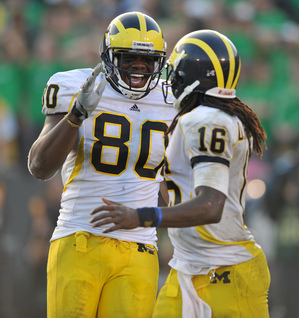 AnnArbor.com file photo
Every day starts with breakfast and then a weight workout at Schembechler Hall. He returns home, rests and plays a little bit of the Call of Duty video game.
Then, he returns to Schembechler around 4 p.m. to do cardio and running. On Tuesdays, he said, he works in a sand pit to strengthen his legs and does lateral movement work and on-field drills.
"It's repetitive every day," Webb said. "But it's (also) different stuff."
There isn't much else he can do. He can't sign with a team — and doesn't know where he'll land once the lockout is lifted — so he can't study a specific team's playbook or offense.
He said the San Francisco 49ers, Indianapolis Colts, Philadelphia Eagles and Arizona Cardinals called Saturday during the draft, but teams can't contact prospective players now. So he sits and waits.
"I'm just contacting my agent, watching ESPN closely," Webb said. "Nobody knows the situation but I'm just keeping a close eye to the news and my agent.
"I'm just doing my thing, working out."
One thing he's tried not to do is look for other jobs. By working out twice a day and holding on to the belief that there will be a season and a tryout, he has resisted looking for jobs outside of an attempt at an NFL career. For now.
"It's very tempting to look for other jobs and stuff," Webb said. "But I'm going to stick it out until the work stoppage ends, whenever it comes."
He also knows that when the lockout ends, it will be harder for him to make a team. Time spent in minicamps, and perhaps even training camp, will be shortened.
The rookie class Webb and Michigan's two drafted players -- Jonas Mouton and Steve Schilling were both selected by the San Diego Chargers -- will be a part of will be remembered more for the offseason than the actual season if it is played.
"I'll always be the class that was going through the labor stuff," Schilling said last week before the draft.
Schilling and Mouton at least know where they will head when the lockout is lifted. Webb, former Michigan linebacker Obi Ezeh and the other roughly 300 undrafted free agents that typically get a minicamp invitation do not.
"I definitely think this is a unique class. It's different," Webb said. "There has never been a stoppage in the draft, it's a whole different deal. We're always going to remember. I think it is a draft class that has to work harder.
"We're going into camp or into the summer not knowing what to expect. After a work stoppage it's going to be different, pretty sure it's going to be a lot different."
Michael Rothstein covers Michigan sports for AnnArbor.com. He can be reached at (734) 623-2558, by email at michaelrothstein@annarbor.com or follow along on Twitter @mikerothstein.