Posted on
Thu, Sep 9, 2010 : 6:03 a.m.
Former star Michigan running back fired from athletic department for 'willful deception,' letter alleges
By David Jesse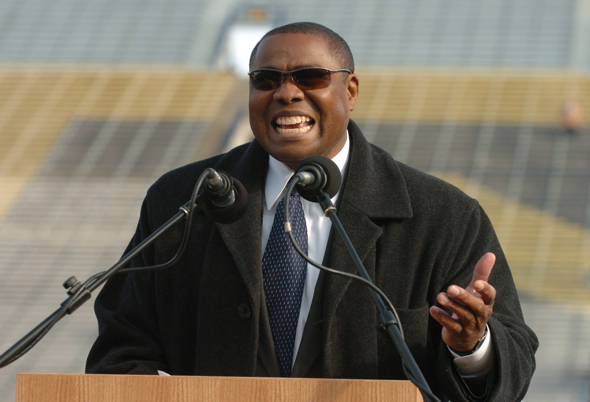 Longtime Michigan football star Jamie Morris was a natural fit as a major gifts officer for the University of Michigan. His prominence as a player segued nicely into dealing with athletic boosters and made him one of the department's most visible faces.
That is, until April - when without notice, Morris disappeared from public view, quietly dismissed by the department he says he still loves.
RELATED CONTENT
Newly released documents obtained under the Freedom of Information Act reveal what happened behind the scenes last spring, with accusations that Morris was guilty of "willful deception" and "an unethical effort to engage others in an attempt to cover-up the truth."
Neither the university nor Morris will discuss the specifics of the allegations, which are outlined in personnel records and a fiery termination letter written by athletic director Dave Brandon.
According to that letter, Morris was fired for allowing a football quality control staff member to drive a courtesy car normally reserved for a coach or administrator for nearly a month without authorization. And when that vehicle was involved in a crash, Morris told multiple stories about what happened, the letter says.
"You have been discharged from the University of Michigan for work misconduct which includes a failure to appropriately manage a significant aspect of your work responsibilities, the demonstration of extremely poor judgment, willful deception, an unethical effort to engage others in an attempt to cover-up the truth, and a deliberate misrepresentation of facts to your direct supervisor," Brandon wrote just over a month after he took over as athletic director. The three-page letter says Morris will not be recommended for rehire.
Morris declined to talk in detail about the incidents.
"I tried to help someone out," Morris said. "The people who were in charge made a decision."
Morris was hired last month to be the customer development manager for Randy Wise Chevrolet Buick of Milan. According to a press release from the car dealership, part of his responsibility will be to develop a "stable, mutually beneficial partnership with the University of Michigan."
"I love the University of Michigan," he said. "I love Michigan football. I left it with my heart still there. I came in when things were going well and when I left they were going better. I'm very proud of my time (at U-M)."
Athletic department spokesman Bruce Madej said the university won't comment on personnel matters.
During his playing career in the mid-1980s, Morris was a prolific running back. He still ranks as the third all-time rushing leader in career yards and has the third-highest single-season rushing total.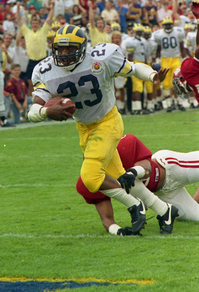 His career in the NFL was cut short by injuries. Morris made his way back to the university in the late 1990s, working in a variety of roles for the athletic department - all dealing with donors and involving public appearances.
Morris was often seen at high-profile events and was closely linked to his former coach, Bo Schembechler. When Schembechler died, Morris was among a handful of former players and athletic department personnel who attended a press conference at the hospital. He also was one of three former players to speak at Schembechler's public memorial service held at Michigan Stadium.
During his time at the university, Morris served as the department liaison to various booster organizations and was in charge of soliciting gifts from boosters. He was earning about $73,000 a year in salary when he was fired, university records show.
"His background provides a unique perspective and his knowledge of Michigan's athletic tradition and history has been a great asset to our efforts," his supervisor, Joe Parker, wrote in the only performance review in Morris' file, dated Aug. 15, 2004. "He has had an immediate and positive impact on our efforts and goals. He has effectively managed and coordinated the department's car program; served as a key liaison to the M Club and Alumni Association and grown his involvement with athletic donors."
It's unclear whether Morris was still managing the car program when he was terminated.
That car program is at the center of Morris' firing, Brandon's letter says.
According to Madej, about 75 cars from local dealerships are given, free of charge, to the department to be used by coaches and senior department staff. The dealerships get publicity and access to various coaches in exchange for providing support to the athletic department.
The exact number of cars the department has at any one times varies, depending on the week and the needs of the department, Madej said. An athletic department website lists more than 40 dealers from across the state that take part in the program. Most other major colleges have similar programs.
The letter from Brandon summarizes the findings of a disciplinary review conference held on April 23. The committee found that:
- Morris allowed a football quality control staff member who didn't have insurance to drive an unassigned courtesy car for a month.
- On April 14, the staff member was involved in a car crash. The letter doesn't identify the driver or say what happened in the car crash. An AnnArbor.com review of crash reports for that date in the city of Ann Arbor failed to find any reports with the names of any quality control staff members.
- The letter said Morris then lied about what happened: "You told your supervisor that the quality control staff member was driving a coach's courtesy car to a car wash on South Industrial, to have it detailed for the coach when the accident occurred. This was a complete untruth."
- The next day, Morris told another supervisor a different story, the letter said: "Your explanation for waiting a full day to inform your supervisor as to what had transpired was that you thought the CFO would 'mozy down and tell him about it.' On the morning of April 15th, you told your supervisor, Joe Parker, that the quality control staff member had been driving the vehicle for a couple of weeks and needed the vehicle to run errands for his wedding, and you told him he could use the car."
- The letter accuses Morris of further attempting to cover up what happened. "You asked a coach to lie and corroborate your story about the quality control staff member borrowing the coach's car and taking it to get washed," it says. "You told the coach that you were going to say that his other dealer car was being serviced and that you had gotten this particular car for the coach to drive. The coach immediately contacted the quality control staff member's supervisor to express his concern and discomfort over what you had asked him to do."
- Morris repeated both the car wash story and the wedding errands story to other members of the athletic department's administration, according to the letter.
At the April 23 committee meeting, Morris "attempted to rationalize that you had knowledge of other instances when things have happened where staff members have run errands for coaches and they may taken a coach's car," according to the letter. "Yet, you said you did not want to talk about those instances as you did not want to get anyone in trouble. Upon being pressed as to whether a quality control staff member has ever borrowed a head coach's vehicle for an extended period of time, you finally, responded, 'no.' You then acknowledged that you were not aware of any situations in which a staff member had used a coach's car for an extended period of time."
Prior to that meeting, Morris tried to get athletic department boosters to intervene, the letter says. That didn't sit well with Brandon.
"We find that your repeated attempts to imply that the athletic department has somehow propelled, perpetuated, reinforced and spread any rumors or innuendo regarding the circumstances leading up to your termination to be completely and entirely disingenuous and false," Brandon wrote in the letter. "The reason this matter has been discussed beyond the appropriate university officials appears to be a result of your discussion with several people, in an attempt to encourage them to lobby on your behalf. You have apparently decided to make this a public issue for reasons I will never understand. It is neither in your best interest … nor in the best interest of the athletic program."
David Jesse covers higher education for AnnArbor.com. He can be reached at davidjesse@annarbor.com or at 734-623-2534.