Posted on
Mon, Mar 1, 2010 : 4:11 p.m.
Former University of Michigan football player Philip Brabbs trying to kick cancer
By James Dickson
While most cancer patients lose their hair, Philip Brabbs, former place-kicker with the University of Michigan football team, decided to grow a beard after falling ill.
"I'm working remotely these days anyway, so I figured 'why not?'" said Brabbs, now an IT specialist at Thomson Reuters. In the corporate world and as a player under Lloyd Carr, facial hair was frowned upon. Now it's one of the things Brabbs, 29, uses to lift his spirits.
Brabbs felt sharp pains in a foot on a 2006 visit to Ann Arbor. An ambulance took him to University Hospital, where he was diagnosed with a pulmonary embolism.

But the sharp pains returned to Brabbs' foot. He knew there was trouble when it climbed up his leg in November 2007.

It was another blood clot. After Brabbs suffered his third blood clot, doctors told Brabbs he'd be taking blood thinners for life. 

He was sent for additional testing. When Brabbs first met with his oncologist, the possibility that he'd have multiple myeloma, a cancer of the white blood cells, was so remote that the doctor barely discussed it.

One day after his 28th birthday, he was diagnosed with the disease.

At the outset of his health woes, Brabbs didn't even know what an oncologist was. Now he spends time raising awareness.

"The average diagnosis age for multiple myeloma is 68," Brabbs explained. "I was 28 when I was diagnosed, and this cancer seems to be inflicting more and more young people."

The Kick
Die-hard Michigan fans will remember Brabbs for his game-winning kick in the 2002 Washington game.
Washington had defeated Michigan the previous year in Husky Stadium, 23-18. The Wolverines hosted the Huskies in the season opener with hopes of atoning for that loss.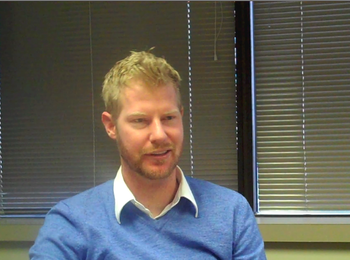 James Dickson | AnnArbor.com
Carr told Brabbs the day before the game that he'd be the starting kicker - his first start at Michigan.
But his career started with two missed field goals in the first half. Carr replaced him on extra points in the second half, but Brabbs never gave up hope - not only would Michigan win, but his right leg would play a part in it.
"All throughout the game, I had a feeling it would come down to a field goal at the end," Brabbs said seven years later. "When I got the chance, I made the most of it."
All hope seemed lost when Michigan failed to convert on a late fourth down in Washington territory. Then Washington was penalized. First down Michigan.
Brabbs' kick would now take place from 44 yards rather than from 59 yards away.
As his kick fell through the uprights, fans poured onto the field at Michigan Stadium. Michigan 31, Washington 29.
Michigan's losses to Notre Dame, Iowa, and Ohio State left the Wolverines in third place in the Big Ten. 
Still, Brabbs' leg started the 2002 season on a high note.
"You fight through it"
Brabbs has undergone seven rounds of chemotherapy. Each consists of two weeks of active chemotherapy and one week off. In April, Brabbs is expected to receive two stem cell transplants this spring that will lay him up anywhere from three to six months.
The trademark blonde locks will fall out. The beard, too. Brabbs plans to dye his hair maize and blue before it does.
Multiple Myeloma for Dummies, Brabbs' blog, is his forum to raise awareness for the disease. Michigan fans from around the world have supported the former kicker by purchasing "Cancer Kicker" bracelets, which are available through the blog. More than 1,500 bracelets have been sold. Lately Brabbs has been doing "Myeloma Mondays" on his blog, offering biographical sketches of other, less high-profile patients with the disease.
Friends and former teammates rib the former kicker about the color of the bracelets - the burgundy is a little too close to close to Ohio State scarlet for Wolverine country - but burgundy is the official color for the myeloma cause.
Earlier this year, Brabbs spoke to the Michigan football team, encouraging the team fight through their struggles the same way he's fighting cancer.
"I've shanked a couple of kicks in my time. Michigan's had a couple tough seasons. But you fight through it."
"Adversity teaches character - that the tough times are when you learn what you're all about," Brabbs told the team, repeating one of the many life lessons he attributes to Carr.
Just as the kicker had "complete peace" on the sidelines after missing his first two field goal attempts, Brabbs has a quiet calm that he will beat myeloma in the end.
"I feel right now the same way I felt coming onto the field" to win the Washington game, Brabbs said: "There's going to be a really good ending to all of this."
James David Dickson can be reached at JamesDickson@AnnArbor.com.