Posted on
Sat, Oct 15, 2011 : 6:01 p.m.
Fourth-down folly? Brady Hoke defends critical play call late in loss to MSU
By Nick Baumgardner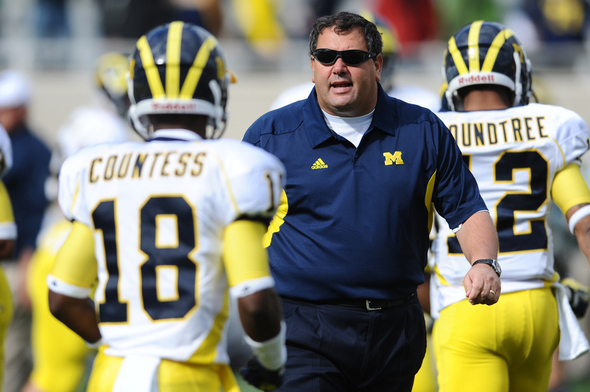 Melanie Maxwell | AnnArbor.com
EAST LANSING -- With more than 70,000 largely green-clad fans at
Spartan Stadium
holding their breath, hoping to avoid another fourth-quarter heartbreak to in-state rival
Michigan
, Wolverines junior quarterback
Denard Robinson
climbed under center with inches separating him and a crucial first down.
Down 21-14 and having already converted a fourth down with his feet earlier in the drive, Robinson settled in on the Michigan State 9-yard line, looking to make a game-changing play.
The game changed, all right, but not the way Michigan drew it up.
"We just didn't play football," said Robinson, unsure how else to describe the situation.
Michigan's decision to run a play-action pass on fourth-and-inches resulted in a 10-yard sack and a turnover on downs.
It didn't completely kill the Wolverines' chances. Michigan's defense promptly forced a three-and-out to give the offense another chance.
But it may as well have.
The sack (one of seven Michigan State recorded on the day) was credited to MSU junior corner Johnny Adams, but it wasn't as if Spartan coach Mark Dantonio had a stellar pass-rush drawn up.
"I thought they would run the football," Dantonio said following his team's 28-14 win.
Michigan coach Brady Hoke defended the call, explaining how that same play has paid off for he and offensive coordinator Al Borges in the past, often resulting in first downs and even touchdowns.
That didn't happen Saturday, though. Quite the opposite. Even so, Hoke declined to get into any type of hindsight play-calling discussion.
"(Maybe) you sneak it or run the power play, (there's) multiple things you could do," he said. "But we've been very successful, really, in the last two years (with) that same play."
Robinson agreed with his coach, saying the play should have worked, but it was executed poorly. He also admitted that he never saw Adams coming off the edge, not until the last second, when it was far too late.
"We had what we wanted," he said. "We had it called at the right time, we've just got to execute."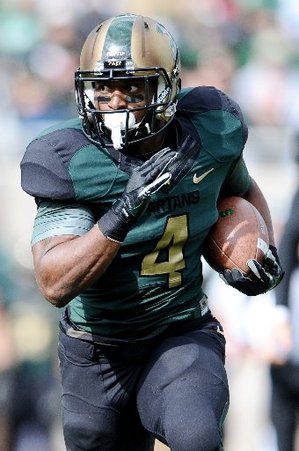 Melanie Maxwell | AnnArbor.com
The rushing difference
Entering the week, both Hoke and Dantonio stressed the importance of winning the running battle Saturday. The team with more yards on the ground had won the past 38 of 41 meetings.
Make it 39 of 42.
Michigan and Michigan State were 5 yards apart on the ground at halftime, with the Spartans collecting 100 rushing yards while the Wolverines tallied 95.
In the second half? Michigan State outrushed Michigan 124-56, finishing the game with a 224-151 edge.
"I think they were definitely more physical," Michigan junior safety Jordan Kovacs said. "They pounded us, and ate us up. But we're going to take it, and improve from here.
"You have to give them a lot of credit."
Hoke wouldn't go as far as saying his team was beaten up, but admitted it could have played better against the run.
"I don't know if we got beat up, they were physical," he said. "But this game always is physical."
On the other side of the ball, Hoke pointed to his offensive line more than his running backs with regard to the Wolverines' offensive woes.
"To get it out of our running back group, we've got to get it out of our front a little bit better," Hoke said. "There are some opportunities maybe we missed a little bit, but I don't know how much movement we got consistently at the line of scrimmage."

Jersey for jersey
Michigan State had advertised its special Pro Combat Uniforms for some time entering Saturday, so it came as no surprise when the Spartans took the field with a bronze and green color scheme.
It did come as a surprise, though, that Michigan took the field looking different.
After warming up in their regular road uniforms, the Wolverines changed to what they officially called their "legacy road uniforms." Michigan's road uniforms Saturday featured white jerseys over white pants, with maize and blue stripes on the shoulder pads -- essentially the road version of their special "Under the Lights" jerseys from this season's Notre Dame game.
The uniforms were a nod Michigan's 1974 and 1975 teams, who wore white pants.
"That was neat," Hoke said. "In '74 and '75 we were white on white (with uniforms)."

Gordon plays, Barnum dresses
Michigan sophomore linebacker Cam Gordon saw game action for the first time Saturday, making a special teams tackle in the first quarter.
Gordon concluded fall camp as the team's starter at strong-side linebacker, but has yet to play this season due to a back injury.
In other injury news, Michigan junior guard Ricky Barnum dressed for the first time in two weeks, but did not play. Barnum had missed the Minnesota and Northwestern games with an ankle injury. Sophomore Michael Schofield got the nod for the third straight game.
Senior linebacker Brandon Herron did not dress, and has not played since the first game of the season. Also off the dress list Saturday was sophomore safety Marvin Robinson.

Odds and ends
Hoke said the poor kickoff to begin the second half was not a failed onside kick attempt. "We were trying to squib it," he said. "(Freshman kicker Matt Wile) just hit it not as well as he'd like to have hit it." ... Michigan sophomore offensive tackle Taylor Lewan left the field due to an apparent injury early in the game before returning. Asked if Lewan had any type of severe injury he was dealing with, Hoke didn't get specific, but said that just about everyone on the team is dealing with some sort of bump or bruise. "There's not a healthy guy in that room, everybody's beat up," he said. "That's just part of football. This off week or bye week, I should say because you're never off, probably comes at a good time."
Nick Baumgardner covers Michigan sports for AnnArbor.com. He can be reached at 734-623-2514, by email at nickbaumgardner@annarbor.com and followed on Twitter @nickbaumgardner.