Posted on
Thu, Aug 18, 2011 : 5:54 a.m.
Freshman Matt Wile's strong camp has him inching toward Michigan football history
By Kyle Meinke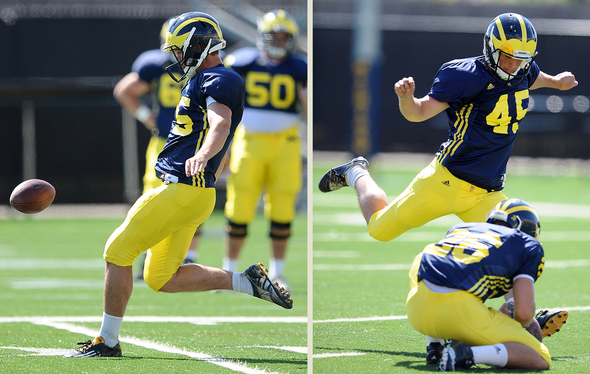 Melanie Maxwell | AnnArbor.com
Matt Wile is so focused while kicking field goals, he often doesn't remember anything that happens between the snap and his follow-through.
Now, it just might be up to the baby-faced, 18-year-old freshman to help the Michigan football team forget its kicking nightmares.
Wile said he already hits consistently from within 50 yards, and his career long is 63. He made 19 of 24 field-goal attempts his final two years of high school. He is Michigan's highest-ranked kicking prospect since Garrett Rivas in 2003.
Physically, he's an upgrade over what the Wolverines fielded last year. But, as coach Brady Hoke likes to say, kicking on Main Street is different than kicking on State Street.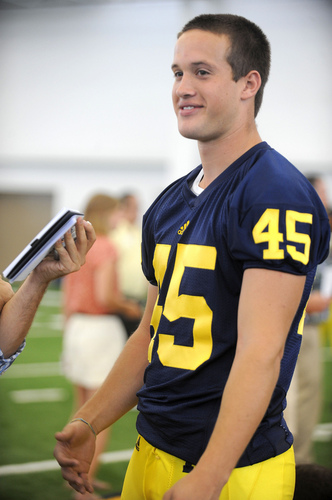 Angela J. Cesere | AnnArbor.com
Wile played for a small high school in San Diego, where attendance hovered around 500-600 for home games. Is he mentally prepared to kick in front of 113,000 people on Sept. 3 against Western Michigan?
"I could be," Wile said after a pause. "All I'm doing is getting ready for the season, and I'm going to compete for the job, and whatever happens, happens."
Hoke has been impressed with Wile's composure so far in camp, and said he'd "be very comfortable" starting a true freshman at kicker — or at punter, for that matter.
Sophomore Will Hagerup, the team's only true punter, is suspended for the first four games of the season due to a violation of team rules. Hoke said Wile is a candidate to handle those duties, as well as returning kicker Seth Broekhuizen, who filled in one game last year at punter.
Broekhuizen averaged only 28 yards per attempt. Wile, meantime, punted in high school, averaging about 36.2 yards as a senior and 40.2 as a junior. He was seen taking snaps with the first punting unit last week, and said he has been working on his snaps and drops.
Is it possible Wile could punt, kick field goals and kick off in his first game with a winged helmet?
"What you want is the best guys at each spot," special teams coach Dan Ferrigno said. "If it's him, it's him. We have no problem playing a freshman there."
Greg Dooley, a Michigan football historian who runs MVictors.com, said he believes no freshman of the modern era has ever kicked off, punted and kicked a field goal for Michigan in a season opener. Freshmen became eligible to play in 1972.
When Hagerup was suspended, did Wile have an "Oh, wow" moment where he realized what could be expected of him the first time he runs through the Big House tunnel?
"Um ... yeah," he said. "It is a lot to handle (doing all three jobs), but I did do all three during high school, so I'm trying to just look at it the same way.
"I'll do what I can, if they give me a shot."
He just might get it.
"This is a big stage, and he hasn't gone out on Main Street in front of 110,000 people yet," Hoke said. "But he's very consistent. He's one of those guys who really knows his technique and fundamentals and can do a good job of coaching himself."
Hoke would know better than most.
Wile hails from Francis T. Parker High School in San Diego, and his father, Peter Wile, served as an orthopedic surgeon for the San Diego State football team the past few seasons before retiring this year so he can fly to Michigan games on the weekends.
Peter Wile, by the way, went to Michigan medical school. So did Wile's grandfather. His great-grandfather taught at the school, and his great-great-grandfather attended it. It's safe to say Wile is a Michigan Man, through and through.
Hoke, meanwhile, spent the past two season coaching the Aztecs. Wile was a frequent visitor to practices and games, and got to know the coaching staff well. They heavily recruited Wile, as did Nebraska, Air Force and others.
When Hoke was hired at Michigan, the match became a perfect fit, and it didn't take long for Wile to commit.
Wile has even already kicked a field goal at Michigan Stadium — converting a 30-yarder as a 12-year-old while attending the Aztecs' game against the Wolverines in 2004.
His range has since improved — and it could continue to do so.
Ferrigno likes Wile's big leg, but gushes over his size and athleticism. Wile is 6-foot-2, 208 pounds, started at linebacker for his high school team last year, then moved to defensive end after an injury to a teammate.
He could have a high upside as he fills out physically and fine tunes his mechanics. Beyond his physical tools, though, he should inject some much-needed confidence into Michigan's kicking corps.
Last season's travails are well documented: The Wolverines made only 4 of 14 field goal attempts, last among 120 Division I teams, with Broekhuizen and Brendan Gibbons. Things became so harrowing, former coach Rich Rodriguez held open tryouts for kicker among the student body.
"I think our problems last year were confidence problems because, as I said earlier, all those kids are decent kickers, good kickers," Ferrigno said. "The thing you can't do is tear 'em down."
Broekhuizen likes what he's seen from Wile, but also from himself this year.
The Holland, Mich., native said he identified a mechanical flaw in which he was not following through with his leg directly toward the uprights. He's corrected that, and now is hitting more consistently than he did at any point last year.
"I just had a couple issues and I needed to work them out," he said. "I'm not going to put any numbers (of distance) on it, but I've been hitting consistently."
Wile is hitting, too, and he's done it in the Big House, where he's kicked field goals every day with the other kickers while the rest of team practices at the team's training facilities.
His kicking routine begins by taking a deep breath just before the snap, which he said lowers his heart rate. From there, he tunes out everything.
"I'm feeling more comfortable every day," he said. "I'm just trying to get as many reps as I can before the season, and trying to get mentally prepared. I'll get there, and I want to compete for the job.
"That's why I came here. If I get that chance right away, then it's all the better."
Kyle Meinke covers Michigan football for AnnArbor.com. He can be reached at 734-623-2588, by email at kylemeinke@annarbor.com and followed on Twitter @kmeinke.