Posted on
Sat, Oct 8, 2011 : 10:38 p.m.
From questionable to impenetrable, Michigan defense pitches second-half shutout
By Nick Baumgardner
Michigan junior safety Jordan Kovacs was just looking for a crease.
With the Wolverines up 11 late, and the chance for the knockout blow in the air, Kovacs found a pressure lane and did what he's done best all season.
Loudly killed an opposing drive.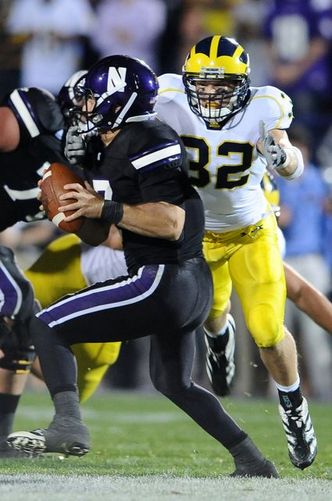 Melanie Maxwell I AnnArbro.com
Kovacs' hit knocked the helmet off Northwestern quarterback
Dan Persa's
head, ending the play by rule and also ending any remaining threat the Wildcats had on the evening.
"I just kind of came in, and I guess you could say, I came in and made a play," Kovacs said. "I didn't really know that was rule. But, we'll take it."
In the first half, Michigan let Persa throw for 195 yards. The Wolverines also allowed more than 7 yards a play from scrimmage, and Northwestern scored three touchdowns on option plays.
The second half was a different story, though.
Michigan allowed just 17 yards in the third quarter, and outside of one final meaningless drive by the Wildcats, dominated the final 30 minutes.
The Wolverines also forced a pair of turnovers and pitched a shutout on the scoreboard.
Michigan coach Brady Hoke said that the biggest difference after the break was the fact that Michigan went with a larger lineup, and continued to play as a unit.
"I like how our team respects each other," Hoke said. "I like how they'll play for each other."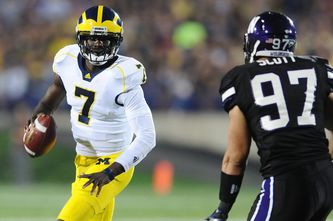 Melanie Maxwell I AnnArbro.com
Denard has another boo-boo
After a 12-yard third-quarter run to bring Michigan inches away from the goal line, junior quarterback
Denard Robinson
left the game with an undisclosed injury.
Robinson wasn't out long, though, as he returned on the Wolverines very next series, missing a total of three plays. Asked what the nature of the injury was, Hoke said it was a "boo-boo" to Robinson's non-throwing hand.
"I took a little shot (to my hand) and I had to get out," Robinson said. "I didn't want to cost the team."
Robinson was relieved immediately by sophomore quarterback Devin Gardner, who closed the drive with a 1-yard touchdown run.
Hoke said he was pleased with Gardner's play in relief, as well as in special packages throughout the game. Gardner finished 2-for-2 through the air for 25 yards and also ran twice for four yards and a touchdown.
"He was good," Hoke said. "I was glad to see Devin be very quarterback-like."

Odoms moves into kick returning role
It appears Michigan has a new featured kick returner.
Senior receiver Martavious Odoms, who has had a diminished role this year after suffering a left forearm injury in the summer, supplanted junior tailback Vincent Smith as the main returner against Northwestern
He also fielded Michigan's only kick return last week against Minnesota.
Odoms finished with two kick returns for 43 yards. He returned eight kicks last year, averaging 22.6 yards per attempt.
The senior suffered an undisclosed left forearm injury during the summer, though, and had featured a cast or pad since fall camp. He played protection-free for the first time against the Wildcats.

Northwestern chain crew member taken to hospital
Before the game, a member of the chain crew was taken away by ambulance after apparently going into cardiac arrest. Northwestern spokesman Mike Wolf said the incident occurred about 45 minutes before kick off.
The man was loaded into an ambulance and taken to nearby Evanston Hospital. His condition and identity were withheld.

Odds and ends
Michigan converted on 9-of-10 third-down plays in the second half and finished the game 14-for-17 overall. The Wolverines also held the ball for 37:17. ... Michigan fifth-year senior tight end Steve Watson got two firsts out of the way at once Saturday. His first career touchdown in the first quarter was also his first career catch. ... Northwestern called for a moment of silence prior to kickoff to honor fallen Michigan band member Patrick Fleming.
Nick Baumgardner covers Michigan sports for AnnArbor.com. He can be reached at 734-623-2514, by email at nickbaumgardner@annarbor.com and followed on Twitter @nickbaumgardner.