Posted on
Wed, Jun 6, 2012 : 11:16 a.m.
Frustrated by late-arriving or no-show students, Michigan AD Dave Brandon backing 'loyalty program'
By Kyle Meinke
LANSING -- Dave Brandon had never seen a water polo match until he became athletic director at the University of Michigan, and it became his job to be there.
Now that he's been exposed to it, he really loves the stuff.
He hopes implementing a "student loyalty program" would encourage students to make similar discoveries.
"The strategy is real clear, and that is we want to have more student involvement in all of our sports," Brandon said Monday after speaking at the Wolverine Caucus in Lansing. "It's one thing to sell 21,000 football tickets, but it's another thing to make sure our student body is aware of all these other talented student-athletes and showing up and cheering them on."
The loyalty program remains in its formative stages, but Brandon said he has a clear idea of what he hopes it will do: Reward students who attend non-revenue sports, as well as show up on time for revenue sports such as football and men's basketball.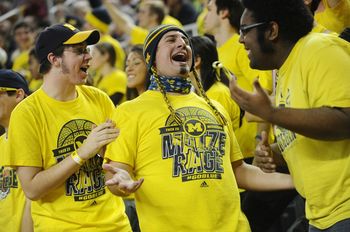 Melanie Maxwell | AnnArbor.com
He didn't say what the rewards would be, but other schools with similar programs offer priority seating at football and basketball games.
Brandon said he not only hopes to boost attendance across the Wolverines' 26 varsity sports, but also students' punctuality at football and basketball games.
It isn't uncommon to see the student section only a third full -- or worse -- for noon kickoffs.
"We want to get people there early," Brandon said. "It's really frustrating to be at a football game when we've sold out all those seats, and you look up, and two-thirds of (the student seats) are empty.
"Basketball, the big games are everywhere, but on a different day, or maybe (against) different competition, sometimes those seats are too empty."
Brandon said Hunter Lochmann, Michigan's chief marketing officer, is the brains behind the initiative. There is no timetable for its release.
But there is a mold.
Brandon said Lochmann and his team have looked at "student loyalty" programs employed at other schools. He didn't name any of them, but Penn State and Michigan State are other Big Ten schools that feature similar systems.
The Spartans have had tremendous success with their basketball loyalty program, which requires students to swipe ID cards as they enter the Breslin Center. They receive points based on when they arrive -- earlier, the better.
MSU says it has helped boost Izzone attendance to more than 3,000 students, up from just a few dozen in the mid-1990s.
"We're always looking at what other people do," Brandon said. "Sometimes, we think what they do is really smart and we steal it. Sometimes, we think what they do is really stupid, and don't -- and that's how you learn."
"What Hunter is trying to do is develop a program that will ... motivate students to get there earlier and to get there more often."
Kyle Meinke covers Michigan football for AnnArbor.com. He can be reached at 734-623-2588, by email at kylemeinke@annarbor.com and followed on Twitter @kmeinke.