Posted on
Sat, Jan 1, 2011 : 9 p.m.
Gator Bowl loss looks a lot like previous Michigan games, Mississippi State overcomes flu and more
By Rich Rezler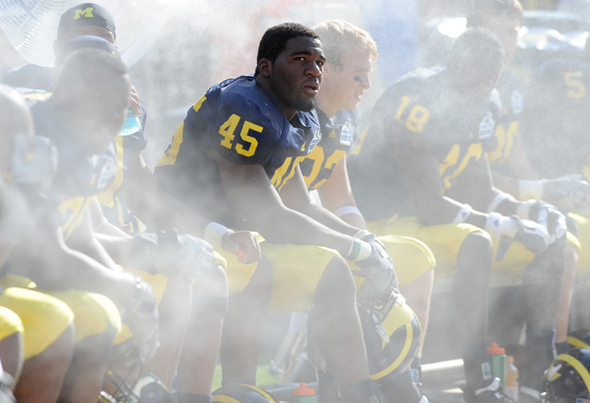 Melanie Maxwell | AnnArbor.com
JACKSONVILLE, Fla. -- The Gator Bowl followed a maize-and-blueprint that has been laid out for much of this Michigan football season.
Quarterback Denard Robinson racked up impressive offensive statistics, drives stalled because of turnovers and kicking problems, and Mississippi State became the latest Wolverines opponent to march up and down the field at will.
Robinson gained more than 300 total yards for the ninth time this season. And the Bulldogs became the ninth Michigan opponent to gain more than 400 yards in a 52-14 thumping at EverBank Field on Saturday.
"As a head coach, you've got to be understanding of all the phases and had we been a little bit better certainly at times defensively, there's no question we would have won more games," Michigan coach Rich Rodriguez said. "I mean, I'm stating the obvious there."
The Michigan defense entered the game ranked somewhere around 100 in each of the NCAA's three major defensive categories. Mississippi State skewed the Wolverines further down those lists, exceeding Michigan's average for points, rushing yards and passing yards allowed.
Robinson started hot, completing his first seven passes - including two touchdowns - and rushing for 51 yards as Michigan took a 14-10 lead.
After that, the Bulldogs bottled up Robinson's running lanes and - despite Robinson completing 27 of 41 passes for 254 yards - the Wolverines didn't score again.
"The offense kind of slowed down, and we didn't have our tempo going. That's what happened basically," Robinson said. "We didn't finish. We didn't finish. We started off, we didn't finish."
Mississippi State coach Dan Mullen said slowing Robinson down was a team effort.
"I don't think we let Denard get too loose," Mullen said. "He did a good job throwing the football. But 11 carries for 59 yards, that's doing a pretty good job containing him."
"I think our (line)backers and everybody did a great job of supporting and containing the end and getting everybody to run to the football. I think you saw at times today with explosive players, they might make the first guy miss, but if we had 11 guys streaming to the football every play, good things will happen to us."
While Mississippi State's defense changed the game by intercepting a pass, forcing a fumble, stopping five fourth-down attempts and limiting the Wolverines to 189 yards over the final three quarters, Rodriguez said the porous Michigan defense may have altered the Michigan offense, too.
"It changes a little bit on how you attack. Sometimes you don't go as fast because you want to get your defense some rest so they can kind of recover," he said. "So certainly when you can't stop them, it changes your mindset somewhat."
Battling the flu
Six Mississippi State players, including All-American offensive lineman Derek Sherrod, were given intravenous fluids Friday night after flu-like symptoms spread through the Bulldog roster.
"We made a point (of hydrating players) at pregame and halftime," Mullen said. "I had them go around, especially to the guys that had been sick and hadn't eaten in two days. … Our training staff did a great job of getting those guys ready today."
One for the ages
Michigan's bowl record isn't stellar -- the Wolverines are now 19-21 all-time -- but Saturday's 38-point loss was easily the program's worst postseason performance.
Michigan lost 45-17 to Tennessee in the 2002 Citrus Bowl. Just three of the Wolverines' other 19 bowl losses were by 10 points or more. Only one other (a 34-14 loss to Washington in the Rose Bowl) was by 20 points.
Quotable
Michigan linebacker Craig Roh: "I was very disappointed. We disappointed the whole fan base, the tradition of Michigan. I promise you this will not happen again."
Michigan defensive tackle Greg Banks: "The coaches did everything they could to prepare us for the game, but I guess we didn't take our level of preparation seriously. You can tell from individual mistakes out there in the sense of missed tackles, over-pursuing the ball and not being technically sound."
Mississippi State defensive coordinator Manny Diaz: "Michigan outplayed us on the perimeter the first quarter. But we knew if we continued making them a throwing football team that eventually it would tilt our way. And I thought our secondary kids maybe played the three best quarters that they've played all season from the first quarter on."
This and that
Fitzgerald Toussaint started the game in a two-back set, the first start of his career. The redshirt freshman carried twice for five yards. … The 24 points scored in the first quarter (Michigan led, 14-10) is a Gator Bowl record. The previous record was 22, set in 2005 by Florida State and a Rodriguez-coached West Virginia team. … Chris Relf's 81-yard screen pass to LaDarius Perkins in the third quarter was Mississippi State's longest play of the season and its 52 points are the most the Bulldogs have scored … Michigan is 1-2 in the Gator Bowl. The Wolverines beat Mississippi in 1991 and lost to North Carolina in 1979.