Posted on
Sat, Nov 24, 2012 : 3:24 p.m.
Grade the Wolverines and weigh in on whether Ohio State should be eligible for an AP national title
By Pete Cunningham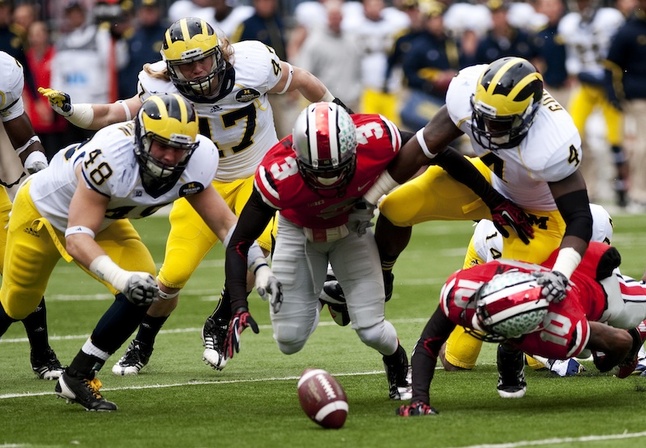 Daniel Brenner | AnnArbor.com
Ohio State defeated Michigan 26-21 on Saturday and, like it or not, kept its outside chance of winning an Associated Press national championship alive by finishing the season 12-0.
Though the Buckeyes are ineligible to play in the Big Ten championship game or possibly the BCS championship game because of NCAA sanctions, writers with votes in the Associated Press poll are still allowed to vote the Buckeyes No. 1 if they so choose and nothing bars them from crowning Ohio State the national champions.
What if Notre Dame, Alabama, Georgia, Oregon, Florida, Florida State and every other team with a chance to win the national championship ends the season in historically poor fashion? Will the Buckeyes be No. 1? And should they be allowed to be?
Give us your take and grade the Wolverines' performance against their most hated rivals in our interactive polls:
Should undefeated Ohio State be eligible for an AP National title?
Offense
Michigan looked prolific and explosive in the first half, but stagnant and mistake prone in the second. What stuck out more to you?
Defense
Porous and vulnerable early, the Wolverines defense kept Michigan in the game down the stretch in what could have turned into a blowout.
Special Teams
Special teams came up with a big fumble recovery, but otherwise was a non-factor. But did it look good in being a non-factor?
Coaching
Did you agree with the offensive play calling in the second half?
Overall
Put it all together, and what do you get?
Check out Kyle Meinke's grades for the Wolverines.
Pete Cunningham covers sports for AnnArbor.com. Contact him at petercunningham@annarbor.com. Follow him on Twitter @petcunningham.