Posted on
Fri, Sep 30, 2011 : 8:55 a.m.
Grading Michigan's nonconference performance: Safeties earn high marks for 4-0 start
By Kyle Meinke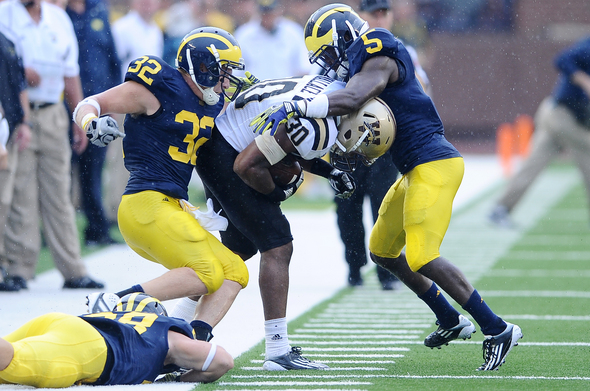 Melanie Maxwell | AnnArbor.com
While Brady Hoke laments the Michigan football team's inconsistency this season, there is one position group that has steadily performed.
The safeties.
Junior Jordan Kovacs and sophomore Thomas Gordon have been terrific this year in forcing turnovers and preventing big plays. They've been consistent tacklers and leaders of the defense.
They comprise the one position group that has consistently put in "A" work for No. 19 Michigan (4-0) during its perfect nonconference season, and they will be counted on during the Big Ten schedule, which opens Saturday against Minnesota (Noon, BTN).
Kovacs and Gordon are the leaders of a resurgent (so far) defense that is 11th nationally in points allowed per game despite being just 54th in yardage allowed. How has Michigan turned that trick?
Two reasons: Limiting big plays and forcing turnovers.
Kovacs and Gordon are a big reason why.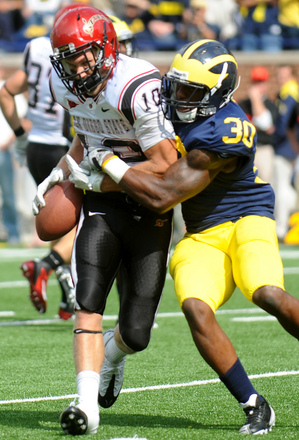 Angela J. Cesere | AnnArbor.com
Gordon, the free safety, is a co-leader on the team with 30 tackles and Kovacs, the strong safety, has 28. It's somewhat foreboding when a safety leads a team in tackles, because it means opposing offenses are getting to the second level of the defense, but it's also a sign the two are sure tacklers.
Kovacs has an interception and forced a fumble, and Gordon has an interception and recovered two fumbles (each of which came in the past two weeks). As a team, the Wolverines have forced 13 turnovers through four games.
They had 19 all of last year.
"We talk every day about creating turnovers," Gordon said recently. "We all want to be playmakers. That's one thing this program's been missing the last couple years, is people on the back end making plays and turn the ball back over to the offense, and that's what we're trying to do."
Michigan also has prevented big plays. The safeties play a pivotal role in that by keeping the ball in front of them and funneling it to the middle of the field — something they call "cuffing the football." The goal of the maneuver is hold plays to less than 15 yards.
"It's all about angles," Kovacs said this week. "If you take a bad angle, it could cost the defense a huge play, so we try to keep the ball in front of us."
It's worked. The Wolverines have allowed just three 30-yard plays, which is 14th best in the country. They have yet to yield a 40-yarder. They've allowed just six touchdowns, only one of which was longer than 16 yards.
That's the antithesis of last year, when big plays and long touchdowns were the Michigan defense's M.O. That's an early sign things are headed in the right direction, even without elite playmakers.
It's been an "A" start for the safeties. Not bad for a former walk-on and a first-year starter.
How the rest of the positions graded out in the nonconference schedule

Defensive line: B-
This group finally showed signs of life last week against San Diego State. Senior tackle Mike Martin camped out in the Aztecs' backfield and got to know the childhood dreams of Ryan Lindley. (Then probably crushed them.) Junior Craig Roh had his second consecutive strong outing. This group is entirely different when it's getting pressure from that rush end spot. The group is a B- on the season, but trending upward.
Linebackers: B+
Based on expectations, this group would grade out as an A+. The linebackers struggled mightily last year, and now have new starters in junior Brandin Hawthorne and freshman Jake Ryan (at least until Cam Gordon's healthy). Hawthorne and Ryan have wildly exceeded expectations, and junior Kenny Demens leads the team in tackles from the middle — as he should at that spot in the 4-3. There have been some blown assignments, and some of the miscommunication problems come back on the linebackers, but this group has been solid, considering ...
Cornerbacks: B-
Yes, Michigan has held up against the pass the past two weeks — but Eastern Michigan (six pass attempts) hardly counts and SDSU's passing woes often came with Martin nipping at the heels of Lindley. This group definitely is trending upward, but it's hard to be sold on their body of work after Jordan White caught 12 passes for 119 yards for Western Michigan in the opener and Michael Floyd had 13 catches for 159 yards the following week. Yikes.
Offensive line: B+
Sophomore left tackle Taylor Lewan and Hoke both have admonished the consistency of this group, especially with regards to the running game. But, hey, quarterback Denard Robinson still is riding lightning bolts to the end zone, and the tailbacks have combined for more than 100 yards the past two weeks. Moreover, Robinson has had tremendous pass protection. The best sign: When was the last time you heard Lewan's name called? That's exactly what you want from a left tackle, because it means there are no penalties (which were Lewan's specialty last year) and the quarterback isn't getting creamed. He is Michigan's best player without dreadlocks.
Tailbacks: B
Hoke wants a lead back badly, and certainly would name one given the chance. But no one has emerged, and that's a problem. Right? Well, sophomore Fitz Toussaint and junior Vincent Smith have performed well in tandem, and their contrasting styles are a nice complement. They combined for 114 yards against San Diego State and 164 against Eastern Michigan. That's not outstanding production, but it's good enough when they share a backfield with Robinson. I like the combination.
Quarterback: A/F
Do I really have to explain the splits? Probably not. There's just no way to grade Robinson as a whole, because he is such a dichotomous player. He's an "A" as a runner, "F" as a passer and there's no other way to put it than that at this point. The disconcerting part: He's an "F" as a passer after facing four marginal defenses. He won't have that luxury as often going forward.
Receivers/tight end: C-
Is it all their fault? No. But, production is production, and there hasn't been any from these guys. The wideouts caught five total passes last week, and Roy Roundtree paced them with two catches for 15 yards. Yes, a lot of it is on Robinson, but Hoke said this week there also have been problems with routes.
Punt teams: B+
Matt Wile is a true freshman who never expected to punt this year, yet has done a fine job in relief of the suspended Will Hagerup. He was awesome last week, averaging 49.0 yards per attempt. On returns, sophomore Jeremy Gallon has shown something he never really did last year: An ability to catch the ball, an ability to advance the ball. Aside from cornerback J.T. Floyd, Gallon might be Michigan's most improved player.
Kickoff teams: D+
Smith, for as good as he's been in the backfield, just isn't getting it done as the primary kick returner. His long on the season is just 24 yards, and his average is a paltry 18.4. He doesn't seem to have quite enough vertical speed to produce here. Wouldn't Michael Shaw be a better option? As for kickoff coverage ... it's been bad almost always.
Field-goal unit: INC
After landing on a "D," I thought better of judging Brendan Gibbons on just two attempts. Still, the only kick he's made was a gimme, he missed a 40-yarder and was 1-of-5 last year. Not exactly promising. Is Wile waiting in the wings?
PREDICTION
Earlier this week, I saw a comment regarding a potential payout to Minnesota for coming to Ann Arbor. Does that about sum up where the Gophers stand in the Big Ten?
Minnesota won't get paid, because they are still a member of the Big Ten (as of deadline, anyway). But it won't stand a chance against Michigan, which is superior in nearly every facet of the game. The Wolverines are far from perfect, but Minnesota simply isn't talented enough to make them pay. Expect an early Michigan lead predicated on quarterback and tailback runs, as well as some short passes and continued improvement on defense. And, if all goes according to plan, a Devin Gardner sighting.
Michigan 38, Minnesota 10