Posted on
Thu, Jan 27, 2011 : 6:01 a.m.
Greeted with impossible expectations, Tate Forcier's departure from Michigan was inevitable ending
By Pete Bigelow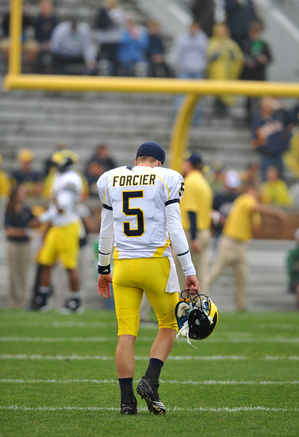 File photo
Almost anything seemed possible on the bright, blue April afternoon.
More than 50,000 fans came to the Michigan football team's annual spring game that day, despite the memories of a 3-9 season still fresh. They had come that day to see Tate Forcier.
Forcier was Rich Rodriguez's first prized recruit. Signed that winter, he inherited a heap of expectations after the quarterback struggles the previous season.
Forcier fed those expectations. Desperate to find someone to believe in again, the crowd was rollicking after he completed 10 of 13 passes and rushed for 46 yards.
Thousands followed Forcier out of the stadium afterward and waited for him to emerge from the locker room. When he did, they serenaded him with chants and cheers. With one spring football game performance against the second-team defense, Tate Forcier had been proclaimed and anointed the savior of Michigan football.
In retrospect, there was nowhere for Forcier to go from that day but down.
A true freshman … home-schooled in San Diego … all of 18 years old … on campus for three months … the face of the program, immediately crushed with impossible expectations of instantly restoring a program fallen on hard times.
"There's obviously going to be tremendous pressure, but being that freshman quarterback you've gotta realize it's not just you out there on the field," said Chad Henne, who once played at Michigan as a true freshman quarterback himself.
Henne got it half right. When he quarterbacked Michigan as a true freshman, he had a veteran group of players surrounding him. Forcier had no such luxury.
Nonetheless, he did pretty well for a while, leading the Wolverines with an improvisational style that made fans cover their eyes in fear but also produced thrilling wins against Notre Dame and Indiana.
But his saga reached its inevitable conclusion last week. Like his entire career here, it was not a clean and easy departure.
Athletic director Dave Brandon announced that Forcier was no longer a part of the program on the day of Brady Hoke's hiring. Then there were murmurs of reconciliation. Then Forcier made his departure official in a series of late-night tweets. It was official.
In a span of less than two years, he had gone from Michigan football's savior to starting 12 electrifying games as a true freshman to benched and wingless the following summer, then back in good graces and serving as an able and consistent backup who always seemed ready when Denard Robinson went down to out the door.
Got all that?
In between, he struggled academically and absorbed rebukes from teammates who thought he didn't work hard enough in the team's off-season workouts and was subjected to the rather public shame of being demoted to third-string quarterback.
Whenever Forcier was asked about any of the tumult, he always was an open book, always candid about his own mistakes, always enthusiastic about his future and Michigan.
You cannot help but wonder what might have been had Forcier been given a chance to mature on the field for a few years behind a veteran starter or what might have happened off the field, had he learned his academic responsibilities under a less-intense glare.
But that was never possible here for Forcier, the face for Rich Rodriguez's offense and of Michigan football from the moment he stepped on campus. Perhaps his departure is best for Michigan and for him. Both deserve fresh starts. Michigan will get its clean slate under new coach Brady Hoke. It's less certain where Forcier lands. ESPN has reported he's considering half the schools in Division I right now.
No matter where he lands, the year off mandated by NCAA transfer rules is probably exactly what he needs after a topsy-turvy two years with Michigan.
No matter where he lands, here's to wishing him well.
Pete Bigelow covers the Michigan football team for AnnArbor.com. He can be reached at (734) 623-2551, via e-mail at petebigelow@annarbor.com and followed on Twitter @PeterCBigelow.