Greg Mattison bothered by Michigan's lack of defensive consistency early in camp
Posted on Tue, Aug 14, 2012 : 3 p.m.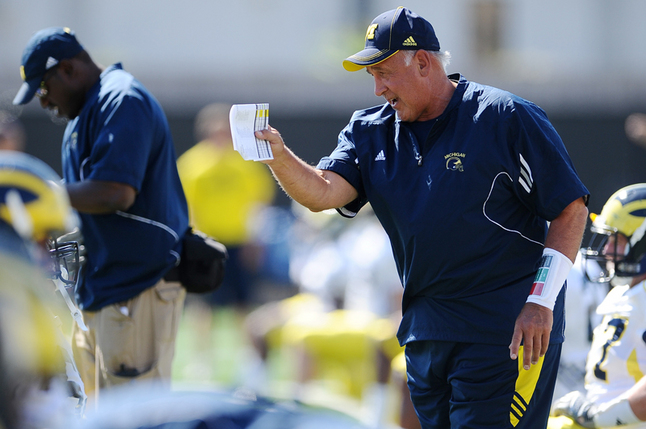 Melanie Maxwell | AnnArbor.com

Struggling to find a consistent balance two weeks into fall camp is far from foreign for most college football squads across the country.

The Michigan football team is no different, and defensive coordinator Greg Mattison admits it's not unusual to have frustration with the process this early.

Inconsistency is normal. But that doesn't mean he likes it.

"It bothers me," Mattison said. "But if you polled 124 defensive coordinators, they'd probably all say the same thing.

"But that bothers me, because this is Michigan. And I don't expect that."

Mattison said his frustration with the unit's overall consistency isn't due to a lack of effort, but the ability to stack good days on top of each other has been a struggle thus far.

The Wolverines began full-contact practices last Friday, and still have plenty of time to work themselves into hitting shape, but Mattison quickly points out that they're not there yet.

In fact, no one is.

"I can't say that there's one player that I would say 'boy, every practice he comes out with perfect technique as hard as he can and he's executing,' " he said. "You're going to expect that, but we can't accept it.

"Each guy has to say 'I'm going to get as many plays today as perfect as I can and play Michigan defense.' We've got to do better at that."

Perhaps the biggest question mark to this point with Mattison's defense is his defensive line. And not just the battles for the four starting positions, but also the race to see who works into the rotation.

Michigan has to replace Mike Martin, Ryan Van Bergen and Will Heininger up front, but Mattison says the time for worrying about that is "over," and his group needs to plug those holes in a hurry.

Mattison pointed to Craig Roh and Will Campbell as players who have done an admirable job of stacking good days on top of one another, but went on to say that's expected because they're veterans.

And, again, right now it's just not good enough.

The same goes for his linebacking corps, which returns veterans Jake Ryan, Desmond Morgan and Kenny Demens -- but has yet to do enough to overly impress Mattison.

The secondary? They're in the same boat. He says he's confident in select returners, but added that "no one" from the reserve unit has earned the right to be included in the secondary rotation just yet.

In short, he's searching for perfection.

Whether it's fair or not.

"It's got to get to a point where I say 'Ok, that's three good (plays), now let's get off the field,' " Mattison said. "And until we get a second unit that can do that same thing at a higher consistency, you won't be able to play in the schedule we're playing this year.

"You've got to have two-deep (players) that you feel really strongly about. That's what's on top of our guys' shoulders right now, and that's what they have to do."

Despite his criticism, Mattison remains somewhat realistic. He admits he's "probably" never had a defense hit his accepted level of consistency this early in a preseason camp, but added that he's not going to stop looking for it.

Not until he's 90-years-old.

"We'll never let up on them, that's not the way we operate here," Mattison said. "I truly believe you can get a defense (to be up to speed this early), and I'm still waiting for the day. I might be 90 before (I get it), who knows.

"But we're going to do it."