Posted on
Mon, Oct 15, 2012 : 5:45 a.m.
Heisman Trophy coming to Ann Arbor for Michigan, Michigan State game
By Pete Cunningham
The Heisman Trophy is coming to Ann Arbor.
No, this isn't a bold prediction that Michigan quarterback Denard Robinson will win college football's most prestigious award. The trophy will simply be in town when itra-state rivals Michigan and Michigan State play this weekend as part of the Sports Illustrated Heisman Tour, presented by Nissan.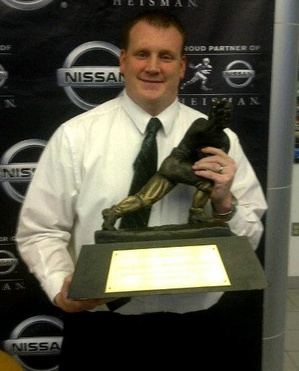 Photo courtesy of Chris Sundermeier
The trophy will be on display at
Ann Arbor Nissan
, located at 3975 Jackson Road, on Friday, Oct. 19 from 9 a.m.-8 p.m. The general public can have photos taken with the trophy throughout the day, free of charge.
Sales manager Chris Sundermeier said letting people know about the event is more of a goodwill mission from one sports fan to the masses. The event has been open to current customers and employees in the past, but Sundermeier wanted to open it up so all sports fans could enjoy the fun.
"I'm like a kid in a candy store (around the trophy). I'm excited for it, my kids are excited for it and it dawned on me that others would be excited for it too," Sundermeier said. "Any sports fan would be interested in it."
The trophy will also be in the Pioneer High School parking lot on Saturday throughout the day where fans can have pictures taken with the trophy and get autographs from former stars from both teams. Who will be signing autographs on Saturday has yet to be revealed. Former Heisman winners Desmond Howard and Mark Ingram signed autographs as part of the tour's stop at the Cowboy Classic in September.
Pete Cunningham covers sports for AnnArbor.com. He can be reached at petercunningham@annarbor.com. Follow him on Twitter @petcunningham.