Posted on
Sun, Jan 8, 2012 : 2:49 p.m.
Here we go again: Children's book publisher pitches Michigan two mascot designs
By AnnArbor.com Staff
Back in June, Michigan athletic director Dave Brandon ruffled some feathers (figuratively) when he talked about being open to the idea of creating a mascot to promote the athletic department.
That talk simmered down a bit when Brandon said nobody in his department was actively working on the project, but that doesn't mean nobody has been.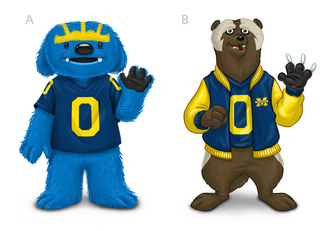 Courtesy Mascot Books
Inspired by a Sugar Bowl matchup between mascot-less Michigan vs. "universally loved" HokieBird and Virginia Tech, children's book publisher Mascot Books has taken it upon itself to create two suggestions.
In an open letter to Brandon, Mascot Books CEO Naren Aryal even says the company will assign all intellectual property rights to the university of Michigan at no cost.
Aryal describes one option as a "cute blue monster," inspired by popular mascots like the Philly Phanatic. The other is a wolverine that is "fierce, yet approachable."
Neither option will strike fear into Michigan's opponents, for sure. But when Brandon discussed the possibility of a mascot with Michigan Today magazine, he indicated that its purpose would be to lure the next generation of Wolverines fans.
"You can't get your picture taken with a Block M," he told the magazine. "Mascots are really embraced by the youth demographic and we want to take advantage of that, for all the reasons that are obvious."