Posted on
Thu, Aug 19, 2010 : 10:43 p.m.
Here's how the Michigan football team plans to replace Troy Woolfolk
By Pete Bigelow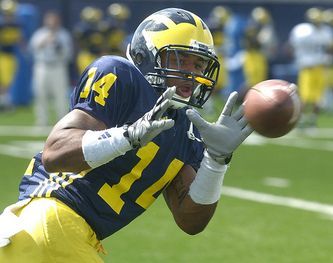 The Michigan football team is making arrangements to play without senior cornerback
Troy Woolfolk
.
Details of his serious ankle injury are still unknown, but Rich Rodriguez said Thursday he'll make moves within the defensive backfield to strengthen the team's depth at cornerback.
"Our free safeties and our corners are in the same meeting room, so I think they know each other's positions anyway," Rodriguez said. "We have some good, young athletes there."
Only existing defensive backs are under consideration for moves to corner. Although Rodriguez has found success in converting receivers to secondary positions before -- Cam Gordon, for one -- such moves are not under consideration now, he said.
Overall, Rodriguez said Woolfolk's injury "elevates the sense of urgency for the young guys to get ready." He didn't name them, but true freshmen Cullen Christian and Courtney Avery, both cornerbacks, could see action this fall. Turnover time In 2009, few teams fared worse in the turnover department than the Wolverines. The offense coughed up the ball 28 times, while the defense only registered 16 takeaways. Only 10 defenses in the country recorded fewer, according to the Big Ten Network.
The -12 margin was the worst in the Big Ten. (By comparison, Michigan State was second-worst with a -6 margin).
Suffice to say, turnovers have been a big emphasis in summer camp. So far, Rodriguez likes what he sees.
"I don't know if we have had a fumble in the last couple of days," he said Thursday. "We've thrown the ball pretty well -- not as well as we need to -- but we've really done a good job taking care of the ball."
Wanted: A preseason opponent The Wolverines will scrimmage Saturday at Michigan Stadium. It will be the coaches' first real look at how some of the position competitions are shaping up.
"We have no way to really measure until we play a game," Rodriguez lamented. "If there's one rule we could change, I wish we could have an exhibition game against someone else."
Extra points
Rodriguez said it was possible true freshman Devin Gardner could win the starting quarterback job. Asked if it was likely, Rodriguez said, "Possible is a better word." …

Seth Broekhuizen is serving as the team's backup punter, behind true freshman Will Hagerup. Rodriguez has rested the kickers a little more in recent days because he doesn't want them to over-kick. …

Aside from Woolfolk, the team hasn't suffered any other serious injuries during summer camp. "For lack of a better word, there's 'typical' camp injuries, they're banged up or sore or missing a practice or two," Rodriguez said. Maybe one or two players, including linebacker Jonas Mouton, will miss Saturday's scrimmage, according to Rodriguez.