Posted on
Mon, Jan 2, 2012 : 3:28 p.m.
Highlights from Michigan coach Brady Hoke's final news conference before Sugar Bowl
By Kyle Meinke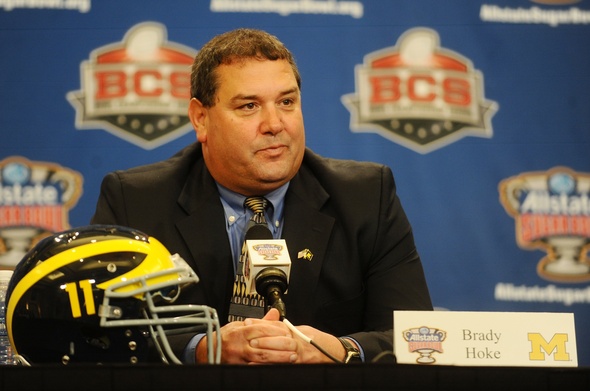 Melanie Maxwell I AnnArbor.com
NEW ORLEANS -- Michigan coach Brady Hoke addressed the media today for the final time before the Wolverines face Virginia Tech on Tuesday in the Sugar Bowl (8:30 p.m., ESPN).
He didn't release much, by way of news, but did have a few interesting thoughts on his team, in particular, and college football in general.
Here are a few highlights from his news conference in New Orleans:
On if there's a window for a national championship next season: "Oh, I don't know about that. We really, you know, every team's different. We're going to find out a lot about Team 133 and the seniors who are going to lead that team. We're going to have some holes to fill, like everyone does, and I think once we get through spring, I think we'll have an idea where we're at."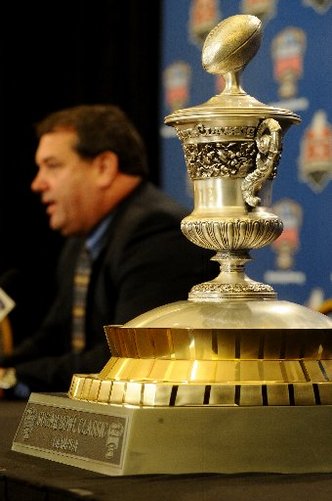 Melanie Maxwell I AnnArbor.com
On adapting the offense to the talents of the personnel he inherited, in particular Denard Robinson:
"You know,
Al Borges
, our offensive coordinator, is a very smart man. He's coordinated a lot of different places. I think we have a system that we're working toward. But I think Al's really done a great job on the different things that Denard because of what he brings to the table, his athleticism, I think, you know, and how he's progressed in what we're doing. … I think we're smart enough to know that we've got a pretty good football player there, so why not utilize what he does well?"
On what's behind the defense's turnaround: "There's a mentality and an expectation, and there's a pride. … You know, the scheme was different, personnel was a little bit used differently. But, I think all those guys on defense are such good teachers from a fundamental and technique standpoint and expectations that our guys hear every day of how you play Michigan football. And then it's really up to those guys, the Mike Martins, the (Troy) Woolfolks, and (Ryan) Van Bergens and the guys who are the leaders on that defense and everything that they've done."
On why he calls this Michigan squad "Team 132": "We've always numbered our teams. At Ball State, whatever those numbers were, and San Diego State, and Coach (Lloyd) Carr kind of indoctrinated me into that when he was the head coach at the University of Michigan. And it's about a legacy as a senior class. And it's about that team, because you're remembered. This team has a chance to be the fifth Michigan team to win 11 games. And that's significant. And it's significant for those seniors. And so we've always done that."
On whether coaches are getting less time to turn around programs before they're let go: "It's part of what college football is, to some degree, with 'what have you done lately?' and just how it is. … It's all part of it, and I can't judge if you get enough time, don't get enough time."
On how much thought he's given to next year's season opener in Dallas against Alabama: "You know what, really not much. You know, we gotta finish this one off. And that will be a great opener for us a year from now. But right now we've got to finish off … we started it, and so we need to finish it."
On his definition of a Michigan Man: "It's always been a guy who plays at Michigan who has got a toughness to him in how he plays the game. He's got a tremendous respect for the University of Michigan and his teammates. A guy who has got integrity, and a guy who has character."
On whether Michigan "is back" with a win: "I don't think Michigan ever left. There was maybe a lean year or two. But Michigan was always Michigan. And will be. So Michigan never left."
Kyle Meinke covers Michigan football for AnnArbor.com. He can be reached at 734-623-2588, by email at kylemeinke@annarbor.com and followed on Twitter @kmeinke.