Posted on
Wed, Mar 23, 2011 : 2:57 p.m.
Brady Hoke to fans: Expect to see a work in progress at the Michigan football team's spring game
By Pete Cunningham
Michigan football fans should temper their expectations when they see the new-look Wolverines at the annual spring game on April 16.
First-year coach Brady Hoke said Wednesday that after three days of spring practice -- one in pads -- and with 11 remaining spring workouts, he doesn't think his team will ready for a full blown scrimmage at Michigan Stadium.
"I'd like to, but we don't have the depth," Hoke said.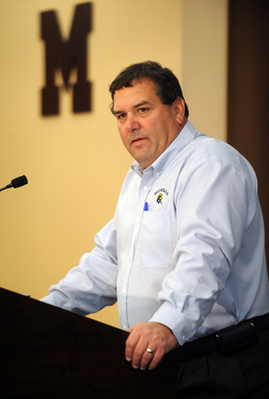 Hoke anticipates the spring game to be more of a glorified practice with situational drills, similar to the spring games of recent years under former coach Rich Rodriguez.
In Hoke's words, there is a "Grand Canyon"-sized gap between where the players are and where he wants them to be.
"We'll never be where I want us be," Hoke said jokingly, yet at the same time seriously. "I think it's pretty typical. The last two places where I've started, Ball State and San Diego State, I think it always takes a little bit of time in the spring to move the dial."
Hoke hopes to have 50 to 60 percent of the offense and defense installed by spring, and at the most 65 percent.
The area that likely will need the most work is defense, Hoke said. The Wolverines are coming off a season in which they allowed 5,860 yards (450.7 per game) and 458 points (35.2 per game) on the year, both team records.
"You see it more on the defensive side of the ball because it's a reaction game," Hoke said.