Posted on
Mon, Oct 17, 2011 : 12:30 p.m.
Hot topics for Brady Hoke: Loss No. 1, an off week and Purdue
By Pete Cunningham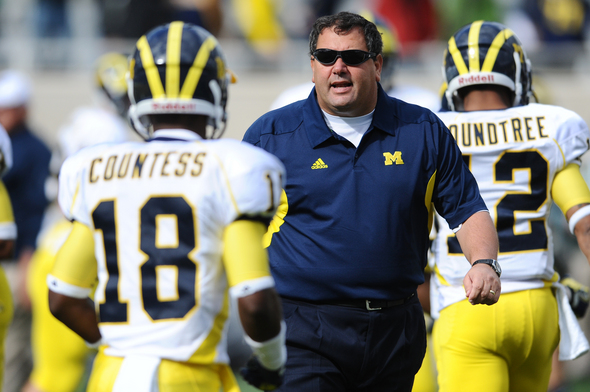 Melanie Maxwell | AnnArbor.com
There's Michigan, off to a 6-1 start, ranked No. 18 in the country and sure to be a favorite in its next game when it takes on visiting Purdue on Oct. 29.
But many of the questions Michigan football coach Brady Hoke heard today were concerning that one loss -- the 28-14 defeat to Michigan State on Saturday -- and how the Wolverines plan to get past it on a week in which they have no game.
Hoke addressed the media on Monday afternoon and we updated this file throughout the press conference:
Below are Hoke's comments are comments from senior captain David Molk:
Brady Hoke: Said he wouldn't even speculate on what it would take to replace Denard Robinson at quarterback. "That's so far off."
Brady Hoke: Said he left field between the first and second quarter to use the men's room. "I drink a lot of water and a lot of coffee."
Brady Hoke: Said the coordinators are on the recruiting trail this week.
Brady Hoke: Said Brandon Herron and Marvin Robinson are still dealling with physical ailments, which is why they didn't travel with the team.
Brady Hoke: Said he thinks team needs to be mentally and physically tougher.
Brady Hoke: On the hit that knocked Denard Robinson out, "It's football." Said he thinks more is being made of MSU's penalties than should be.
Brady Hoke: "Inside, Will Heininger and Mike (Martin) played pretty good football."
Brady Hoke: Said he doesn't think taking Denard Robinson out of game at times messes with his, or the offense's, rhythm.
Brady Hoke: On if Devin Gardner gets a series or a quarter, "No. Denard is our quarterback. ... We're 6-1 and a lot of that is because Denard (Robinson) is our quarterback."
Brady Hoke: On punting, "I thought Will (Hagerup) a couple time did a really good job."
Brady Hoke: "We came out of the game pretty healthy to be honest with you."
Brady Hoke: On if Blake Countess has passed Troy Woolfolk for a starting cornerback position. "I don't know if anybody passed anybody, but there is great competition."
Brady Hoke: On bouncing back from the loss, "You can't let one team beat you twice."
Brady Hoke: On Jordan Kovacs' comments about MSU being more physical. "The truth never hurts. ... it was true. They out-physicalled us."
Brady Hoke: "I don't think we tackled worth a darn, I don't think we got off the perimeter on defense worth a darn." Listed these two things first when asked what was most disappointing.
Brady Hoke: On the punch to Taylor Lewan, "I'm not a referee. ... Do those things happen in games? Yes."
Brady Hoke: On the corner blitz on the 4th-and-1. "He was accounted for if we execute."
Brady Hoke: On 4th-and-1 in the red zone late in the game. "I like the play. ... If we execute, (Kevin) Koger's in the end zone."
Brady Hoke: We're all disappointed with the outcome of the game. ... The one thing I can tell you is the kids stayed in there. ... I'm proud of that. ... When you have the 6-8 plays you need to execute to win, we need to be on the right side of those plays."
David Molk
David Molk: Said the criticism that Denard Robinson takes is not fair.
David Molk: Said he's taken Jack Miller under his wing, likes to head butt him before the game.
David Molk: Said being "out-toughed" is the hardest thing to admit as a player.
David Molk: "They out-toughed us you could say. ... We need to be a tougher team."
David Molk: On Devin and Denard, "I feel like whatever the decision is, it's the right one."
David Molk: "It's time for me, along with my fellow seniors and captains, to deal with the emotions of this team and move on."
David Molk: "There were a lot of plays that could have been better, but they weren't."
David Molk: Said he thought MSU had the snap count figured out and that made it tough.
David Molk: "Mentally, I've moved on. I'm not going to dwell on (the loss). That's not the kind of player I am."