Posted on
Sun, Aug 21, 2011 : 5:59 a.m.
How different is the pro-style for Michigan's receivers? Very, but they're coming along
By Kyle Meinke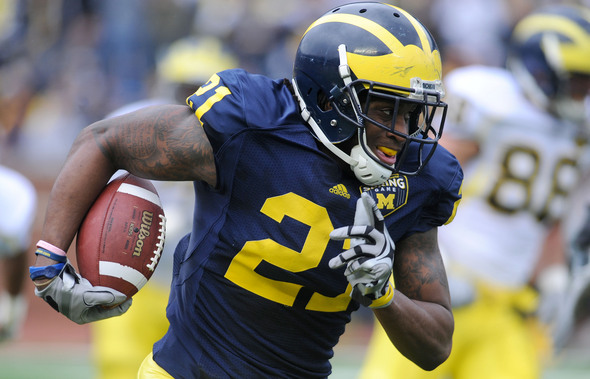 Angela J. Cesere | AnnArbor.com
All eyes have been on Denard Robinson and the junior's transformation from spread-option to pro-style quarterback during the Michigan football team's fall camp.
But here's a question: How's it going for the guys he's throwing to?
Already missing starter Darryl Stonum for the season, the Michigan wide receivers are learning a new system that overhauls their route trees, requiring sharper, more nuanced cuts that put emphasis on timing between them and the quarterback.
"We're doing more break in, break out, comebacks," offensive coordinator Al Borges said. "They were a little more vertical here in the past, which fit their offense perfectly. It was exactly what they should have done."
Robinson has completed more than 70 percent of his passes in organized drills — a good rate, surely, but one that is hard to quantify because the pass rushers wear winged helmets and aren't hitting him.
Still, converting on 70 percent of his passes is better than converting on less than 70 percent of his passes. It shows the chemistry is improving in the passing game.
It all comes back to timing.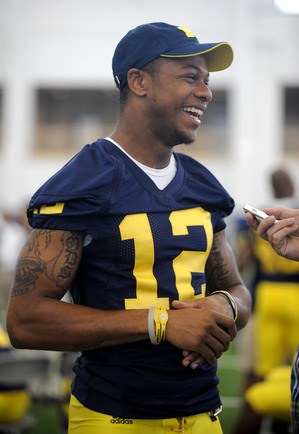 Angela J. Cesere | AnnArbor.com
"You have to have the timing down in this offense because if the timing is off, then the quarterback is off," junior receiver Roy Roundtree said. "Our receivers want the ball, so we got to get open and keep the timing good for Denard.
Where is that timing at now?
"We're getting there," he said. "We still have two more weeks to get ready."
Roundtree is the leader of the receiving corps. He paced the Wolverines last year with 72 catches for 936 yards and seven touchdowns while playing primarily in the slot. He was named second-team all-Big Ten, and is one of the league's top returners at the position this year.
Only, he'll be doing it mostly from the outside with Stonum redshirting the season after being charged this summer with the second DUI of his career.
Roundtree will start opposite senior Junior Hemingway, who is Michigan's best deep threat. He doesn't have burning speed, but his 6-foot-1, 222-pound frame makes him a tough matchup for cornerbacks.
If Hemingway can stay healthy, Michigan will have a formidable 1-2 punch. The question, though, is do the Wolverines have depth after Roundtree and Hemingway? That is where Stonum's redshirt will really hurt the Wolverines.
"Good question," coach Brady Hoke said the first week of camp. "There is some talent there, but … I don't know who else."
Obviously, there is work yet to be done.
One player who could pick up some of Stonum's snaps on the outside is Jerald Robinson, a redshirt freshman from Canton, Ohio.
"I feel like he's going to get time," Roundtree said. "I talked to him the other day, like, 'Look man, this camp, you got to stay focused, don't get down because your legs are sore. That's supposed to happen.' Jerald's been having a great camp because he wants to learn and he wants to get better. He can play."
Robinson is 6-foot-1, 206 pounds, a big-bodied receiver like Hemingway, only teammates say he's faster. He is not yet a finished product, certainly, but coaches have brought up his name several times as a guy who could help bolster Michigan's depth.
"Jerald doesn't know how good Jerald can be," wide receivers coach Jeff Hecklinski said. "There's a lot of times where he's really, really come along. It goes back to this is just a process.
"There's some things he looks really, really good at, and there's some things that we're going to continue to work with him on."
Other players who could see time on the outside are sophomore Jeremy Jackson and junior Je'Ron Stokes.
On the inside, seniors Kelvin Grady and Martavious Odoms are expected to be Michigan's top two slot receivers, with Jeremy Gallon also fighting for time.
Each is a small, shifty receiver, which was an ideal fit for former coach Rich Rodriguez's spread offense. In the pro-sets, though, bigger bodies typically fare better.
Borges isn't worried.
"I've had some big guys at that position," he said. "At UCLA, it seemed all those guys were 6-3, 6-4 or taller. And then I was at places where we couldn't get those guys, we would take a faster, smaller guys, like an Odoms or a Jeremy Gallon or someone like that.
"We found they don't give you any less points if you're 5-foot-7 or 6-foot-7. It's six points one way or the other. So, if they can catch the ball in the end zone, catch the ball and play bigger than they are, we'll find a place for them.
"I mean, I like big and fast — if you can get those guys, that 's what you like — but sometimes, some of the better players aren't big and fast."
Kyle Meinke covers Michigan football for AnnArbor.com. He can be reached at 734-623-2588, by email at kylemeinke@annarbor.com and followed on Twitter @kmeinke.