Posted on
Sun, Dec 4, 2011 : 7:56 p.m.
How sweet it is: Michigan football team will play Virginia Tech in Sugar Bowl
By Kyle Meinke
The return to national relevance is complete.
The Michigan football team will culminate its comeback season with a game against Virginia Tech in the Sugar Bowl on Jan. 3 in New Orleans.
The Wolverines may not have won a Big Ten championship, but that's not a bad consolation.
"It kind of establishes national relevance for Michigan as a program — puts us back on the map, so to speak, as a national powerhouse," senior defensive lineman Ryan Van Bergen said just minutes after learning of his postseason fate. "It'll be great for recruiting, it'll be great for alumni, for fans.
"But the biggest thing is Team 132 wants to play again. We've really grown close, we have great team chemistry, and the opporutnity to play one more game, on a stage as big as the Sugar Bowl, is huge."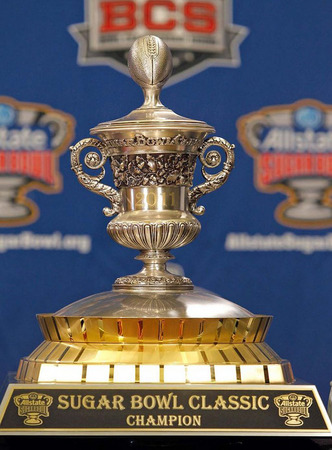 New Orleans Times-Picayune
Michigan was just 15-22 during a rocky three-year tenure by embattled former coach Rich Rodriguez, but rebounded admirably this year, finishing 10-2 under first-year coach
Brady Hoke
and becoming a favorite to be selected for a BCS bowl.
Its prospects became more tenuous, though, when it dropped from 15th to 16th in last week's BCS standings after a win in its season finale against Ohio State. It caused senior tight end Kevin Koger to stay glued to the TV during Saturday's games, rooting for teams such as Georgia and Oklahoma to lose.
"We watched probably every game we could possibly watch throughout the day," said Koger, who watched the games at linebacker Kenny Demens' house. "J.B. Fitzgerald was just so negative throughout the day.
"He said, 'Oh, we're going to the Little Caesar's Bowl in Detroit.' He was just being really sarcastic."
A series of favorable outcomes ensured that wouldn't happen. The Wolverines rose three spots in the final standings, finishing at 13th and punching their ticket to New Orleans.
"It just kind of re-establishes what this team has been able to do and how far we've come, especially with the expectations we had coming into the season," Van Bergen said.
Added Koger: "It'll just show everybody that Michigan is back and we're serious."
Michigan is the lowest-ranked team to receive an at-large bid, but its program is on the upswing after Rodriguez's bumpy tenure.
"Obviously, it was a difficult decision," Sugar Bowl chief executive officer Paul Hoolahan said. "We thought every team we had an opportunity to select presented us with certain unique credentials. In the final analysis, we just felt the two teams we have chosen really give us in the long run the best opportunity to put together a matchup that will provide a very exciting football game."
The Wolverines' Sugar Bowl bid snaps a five-year BCS drought. Their last appearance came at the end of the 2006 season, when they lost 32-18 to USC in the Rose Bowl.
They have lost their last three BCS games, each in the Rose Bowl, after beating Alabama, 35-34, their first BCS game in the 2000 Orange Bowl.
Michigan has played in the Sugar Bowl only once in its history, losing 9-7 to Auburn in 1984. It has never played the Hokies (11-2), who lost the ACC championship game to Clemson this weekend.
The Wolverines are making their second consecutive bowl appearance, after being bludgeoned in last year's Gator Bowl by Mississippi State. Former coach Rich Rodriguez was fired just days after that 52-14 loss.
"It provides an opportunity for the guys who played last year, and fell so short in that bowl game," Van Bergen said. "It provides us a chance to redeem ourselves and to show we can put forward a championship effort in a championship game. And that's what this is."
Michigan hasn't won a postseason game of any kind since concluding the 2007 season with a Capital One Bowl victory against Florida and new Ohio State coach Urban Meyer.
That also happens to be the final game for former Wolverines coach Lloyd Carr, who is being inducted into the College Football Hall of Fame this weekend.
In fact, Hoke could not be with his team for the bowl announcement Sunday because he was in New York City for Carr's honoring.
Hoke won the only bowl he has coached in, leading San Diego State to a 35-14 victory against Navy in last year's Poinsettia Bowl. He also guided Ball State to a bowl in his final season there in 2008, but did not coach in the game because he accepted the Aztecs job before it was played.
Hoke said this game will be about his seniors, who have played for two coaches — and the fifth-years, three coaches — and gone through some of the darkest days this program has known in its modern era.
Now, they'll play on the biggest postseason stage this sport offers.
"It's so rewarding for our seniors," Hoke said by phone late Sunday. "Our seniors have done everything with our program and our leadership.
"It's going to be fun, but like everything else, you don't want to lose that last football game that you play."
Kyle Meinke covers Michigan football for AnnArbor.com. He can be reached at 734-623-2588, by email at kylemeinke@annarbor.com and followed on Twitter @kmeinke.